Are you a student who wants to earn money online by completing surveys?
As you might already know, there are countless survey sites where you can earn money. But there are few paid survey apps that are available in India.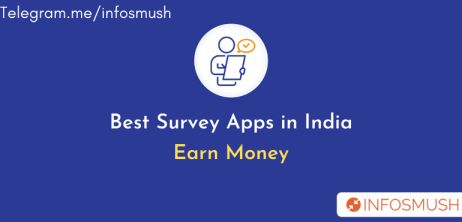 But that is what you will find in this post. Here I've listed the best survey apps to earn money in India. I have also compiled a list of over 30 apps that you can use to earn money. The apps that I have listed are all genuine, so you can use any or all of them.
The survey apps that I have listed here will pay you through PayPal or gift cards. So make sure to create your PayPal account.
Best Paid Survey Apps in India, 2021
1. Poll Pay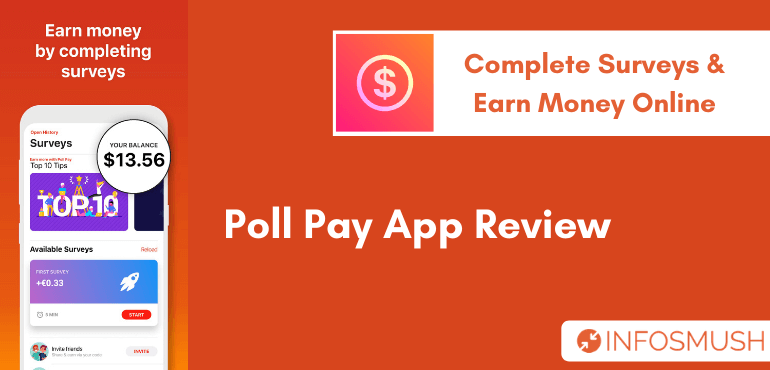 Poll Pay is the best survey app/site in India. This survey app provides you direct surveys and surveys from PollFish. Poll Pay app offers many high-paying surveys. But before you can receive them, you will have to complete a few profile surveys that are necessary for the system to match you with suitable surveys.
On sign up you can get up $0.50 bonus when you register with my referral code:- MVG84KWCXT.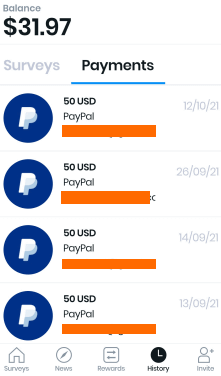 One of the greatest plus points of using Poll Pay app is the withdrawals. Poll Pay is one of the few survey apps that support instant withdrawals. I have redeemed more than $600 from Poll Pay and only once did I not receive my payment instantly.
Referral Code: MVG84KWCXT.
2. Feature Points
Feature Points is one of the best GTP(Get Paid To) where you can also complete surveys and earn money. The FeaturePoints app is also available for Android and iOS devices.
But Feature Points app does not provide direct surveys, rather through Poll Fish. You can earn up to 5000 points for every survey.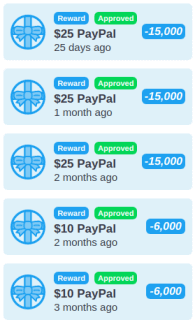 There are many rewards that you can redeem from this best survey site:
Bitcoin
PayPal cash
Flipkart and Amazon gift card
The minimum amount that you can redeem is $5 for 3000 points. In case you are redeeming your points for PayPal cash, the amount should be transferred to your account almost instantly.
Also, on sign up you can receive a bonus of 50 points when you register with the referral code given below.
Referral Code: GKF2YK
3. Atta Poll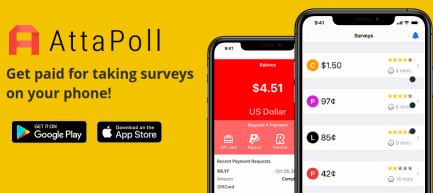 Atta Poll is quite similar to Poll Pay app. The only difference is that they do not provide third-party surveys.
Atta Poll is one of the best survey app to earn money that offers high-paying surveys. Atta Poll does not have a website where you can earn money. The Atta Poll app is available for Android and iOS devices.
From AttaPoll you can withdraw money to your PayPal account or donate to a charity. Just like Poll Pay the withdrawals from Atta Poll are instant. This paid survey app also has an awesome refer and earn system. You can earn 10% of your referrals' earnings for life.
Referral Code: tuynv.
4. Streetbees
StreetBees is a bit different from all the apps listed here. This is due to the kind of surveys that are provided by the app. While on most survey apps you get paid by filling up forms, Streetbees is different. On this app, you can earn by completing simple tasks, or by answering questions in a chat like format.
On sign up you will get $2 bonus.
By referring your friends you can earn $1.5 for each friend that registers on the app.
There is no need to withdraw money from Streetbees, because all your earnings are automatically transferred to your PayPal account on the 15th of every month.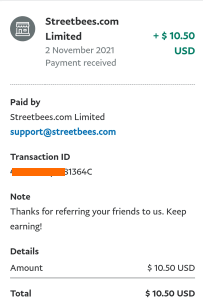 Referral Code: 79736V
5. CashOut
CashOut is another great app to earn money by completing surveys in India. The app has also been around for many years.
On the Cashout app you can earn money by completing various tasks:
downloading apps
daily login
referring friends
watching videos
The referral program of this paid survey app allows you to earn 10% of your referral's earning after they have earned 250 coins.
Cashout app offers various payment methods including various gift cards and PayPal cash.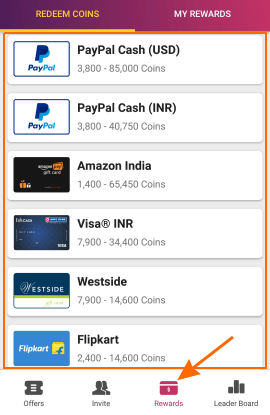 Referral Code: R1K15DNX
6. The Panel Station
The panel Station is the best survey app to earn Paytm cash. In fact it is the only survey app, that I know of, that lets you earn points by completing surveys and redeem them for Paytm cash. You can also redeem your points for Flipkart and Amazon gift cards.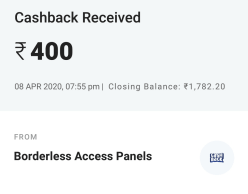 The minimum withdrawal amount is ₹100.
The Panel Station app has one of the highest paying surveys and a lot of them. But got disqualified from most of them. But it might be different for you.
To start receiving relevant surveys on the Panel Station app, you will have to complete 3-4 profile surveys(each paying $0.50 – $0.10).
You can also earn points by inviting your friends. For each friend that signs up using your code you will get 500 points.
Referral Code: 29CB2F.
Final Words
These were the best survey apps to earn money in India. To earn the maximum amount possible, you should use 2-3 of the apps mentioned in this article.
Remember, these survey apps are not going to make you rich. So you should not expect to earn thousands from these kind of earn money apps.
If you have any questions, comment below.