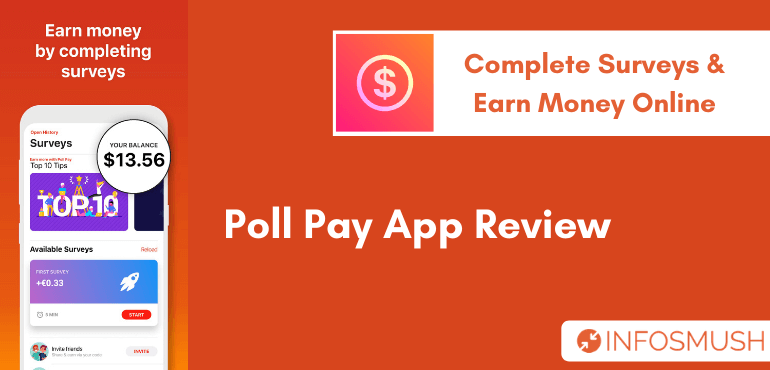 Poll Pay is a great app where I have earned more than $400 with its refer and earn program. I have also added my payment proofs at the end of the review. So if you were having doubts, that should clear things up.
Poll Pay Invite Code 2022: MVG84KWCXT
Use this Poll Pay invitation code: MVG84KWCXT to get an extra $0.25 instantly after sign up.
| Poll Pay Referral / Invite Code | MVG84KWCXT |
| --- | --- |
| Refer Code Bonus | $0.25 |
| Refer & Earn | 15% of friends earnings |
| Payment Method | PayPal |
| Payment Proof | Yes |
| Download App | click here |
What is Poll Pay?
Poll Pay is an Android app where you can earn money by completing surveys. The money you earn can be redeemed for cash through PayPal or gift cards. It is one of the best survey apps that you will ever find.
Similar Apps:
How to Register on Poll Pay App:
1. First, download the app from here.
2. Install and open the app.
3. Select the 2nd answer.
4. Select the gift card you would most like to earn from Poll Pay.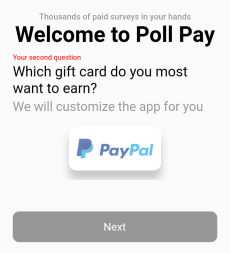 5. Confirm that your are over 16 years of age and tap Start.
6. Now sign in using Google, facebook or Twitter account.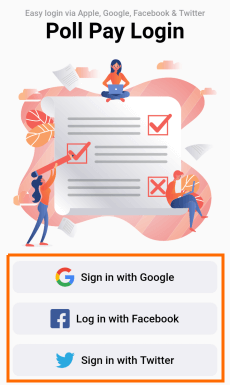 7. Scroll down until you see the options shown in the screenshot below. Tap Enter next to Enter Invitation Code.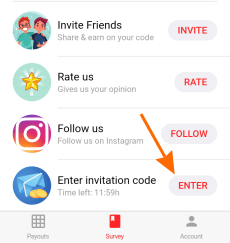 8. Now Enter this Poll Pay Invitation code: MVG84KWCXT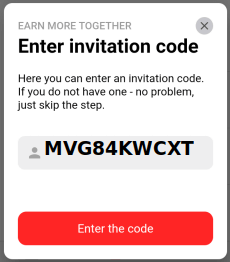 9. Your registration is complete and you have received $0.25.

How to Earn Money with Poll Pay App:
If you didn't skim through this review, you already know that the Poll Pay app pays you for completing surveys. That's the gist of it.
As you noticed above Poll Pay doesn't ask you a whole lot of questions during registration. So naturally as it stands they are ill-equipped to provide any surveys.
So in order for you to receive surveys and earn money you need to complete "To Qualify" survey(s).
If you complete this survey the day you sign up you will earn $0.35. But if you miss your chance you won't get anything.
After you complete this survey you will start getting more surveys based on your answers.
Once you start receiving surveys you just have to complete them. You will earn money for every survey you complete. The reward you get typically depends on the length of the survey.
How to Refer & Earn with Poll Pay:
1. Open the app and go to the Invite Friends section.
2. Tap Share invitation code.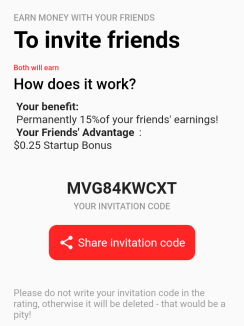 3. Share your code with your friends through Whatsapp, Facebook, Twitter, etc.
4. You will earn 15% of your friends earnings.
5. Your friends will get $0.25 when they enter your code.
For example; you will get $0.25 when you enter my Poll Pay invite code: MVG84KWCXT. And I will earn 15% of your earnings.
How to Maximise Your Earnings(Tips):
Complete surveys as soon as they are available. Because all surveys accept a limited number of participants.
Be Honest. I can't stress this enough; if you want to earn money with anyu survey app you must be honest. Because dishonesty will eventually get you banned.
Be Careful not to give any sensitive information about yourself.
Read questions carefully before choosing an option. Some surveys have trick questions.
Share your invitation code with your friends, followers, anybody.
Some surveys are only available for PC. You can complete these surveys through your mobile browser as well. So make sure you don't miss out on these opportnunities/
Rewards at Pay Poll App:
Currently the only reward available is PayPal gift card. You may have more redeem options based on your country. But for Indian users, PayPal is the only option.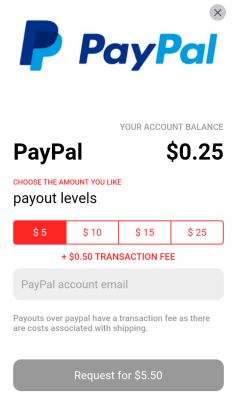 Minimum Payout: $5.
Maximum Payout: $50.
Transaction Fee: $0.50.
So if you want to withdraw $5, you would require $5.50.
How to Withdraw Money
Open the and switch to the Rewards tab.
Choose your reward. Currently, there is only one reward: PayPal gift card.
Enter your PayPal email address.
Now redeem the amount.
The redeemed Payout amount will be credited to your PayPal account instantly.
As mentioned above, for each withdrawal, $0.50 will be charged.
The best part about Poll Pay is that all the withdrawal requests are processed instantly. Most survey apps take more than a few days to send your payments. But not Poll Pay. So if you want fast withdrawals than you should use this survey app.
Is Poll Pay Legit?(Payment Proof)
Yes, it is legit. Below are my two my payment proofs: