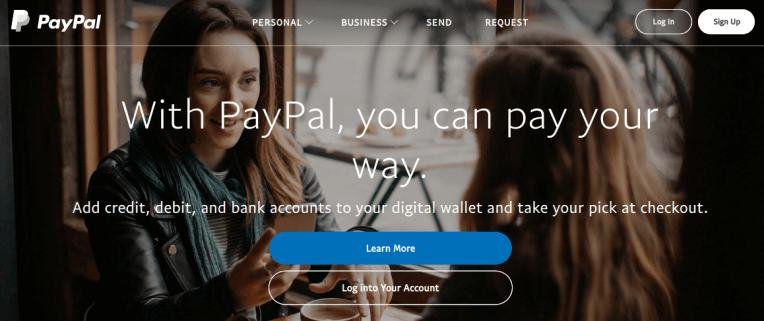 PayPal is an online payment and money transfer system available in over 203 countries. PayPal facilitates international transfer of funds electronically. Whether you work online as a blogger, freelancer or just make some extra cash with incentive programs, most of the time you will require a PayPal account to receive your money.

PayPal is a secure and robust payment system that will make your online especially foreign transactions smooth.

In this step by step guide, you'll learn how you can create and & set up your PayPal account and tutorials for common actions like accepting payments, transferring money to a bank account and more.
What is PayPal?
Let's understand this in simple words: So PayPal is an online service that allows the transfer of funds electronically from one PayPal account to the other.

In most countries, you are able to keep funds in your PayPal wallet. But due to Govt. directives, this service is not available in India. As a result, you can't load money into your PayPal wallet and any money that you receive will be automatically transferred to your linked bank account.

To shop or transfer funds you will need to link your Credit/Debit card. I'll show you how later. Let's first set up your PayPal account.

Advantages of PayPal Account:
Of course, there are benefits of having a PayPal account. Why else would you want one?
The biggest advantage is the freedom to send online payments without having to deal with currency-conversion.
To shop online locally and internationally.
Simple and easy way to receive and transfer money to any linked bank account.
You can save your credit/debit card and pay without the trouble of typing the card number, expiry date, and cvv.
Exclusive cash back and discount offers.
Steps to Create a PayPal Account:
1. Head over to PayPal.com, you'll be automatically taken to your country-specific version of the site. For India it is paypal.com/in.

2. Click the Signup link in the top right corner and select your account type: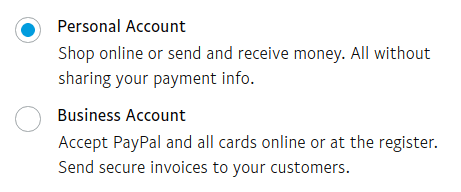 3. As mentioned earlier PayPal automatically detects your location. You don't have to make any changes to that (unless it's incorrect). Enter your email address and create a strong password.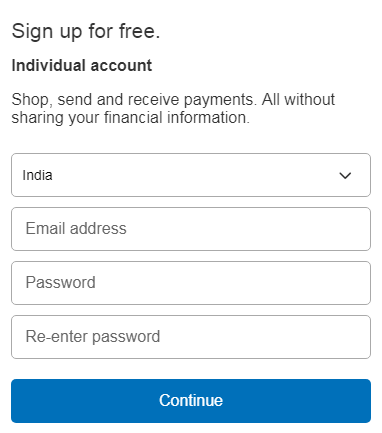 Your password must contain at least 8 characters, 1 number or special characters, and at least 1 alphabet. If it's a bit too much, you can use Google Chrome's built-in feature to generate a password for your new PayPal account.


If you choose to use the generated password Google will automatically save the password in the password manager linked to your Google account that your browser is synced with. You can also use Password managers like LastPass which works both on mobile and PC.

4. Now it's time to fill a little lengthy form. All the fields must be filled except Address line 2 which is optional. After filling the form hit the Agree & Continue button. If you'd like to receive marketing communications from PayPal you can tick the checkbox.

Note: The form in the image above may be different than the one you get depending on your account type.

5. You'll be presented with a Credit/Debit card link form. You can choose to skip this and do it later.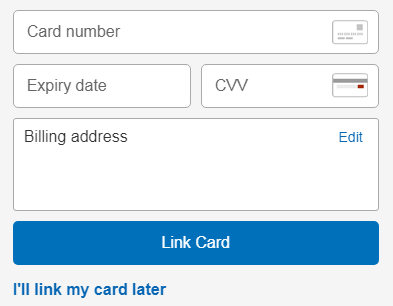 6. Your new account has been created. But it isn't ready to receive and send payments, we've still got some work left. You need to set up your new account. The first thing that you need to do is: verify your email address.
PayPal has already sent an email. Open the email and click the verification link. If you didn't receive the email, login to request another.

7. Now you'll be able to log into your account and make changes. After log in you'll see that you have some notifications. In order for you to receive payments, you must "complete your tasks". Click this link from the notification:

8. Next, you need to fill three forms:
1. Personal Information:
In this form enter the details of your PAN card.
2. Purpose code:
Purpose code basically indicates why you are receiving payments.
Here's how PayPal explains it:" Your Purpose Code indicates the nature of the business for which you receives payments into your PayPal account. Please make sure you select the purpose code that accurately describes your business transactions. This is required as per Indian regulations "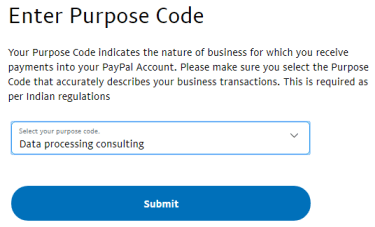 You don't have to put too much thought into this. I have selected Other information as my purpose code and I use my PayPal account to receive all kinds of payments.

3. Add bank account:
You need to link and confirm your bank account before you can receive any payments. PayPal will automatically withdraw the money in your PayPal account to this bank account.

Enter Account number and IFSC code of your bank account and click Continue.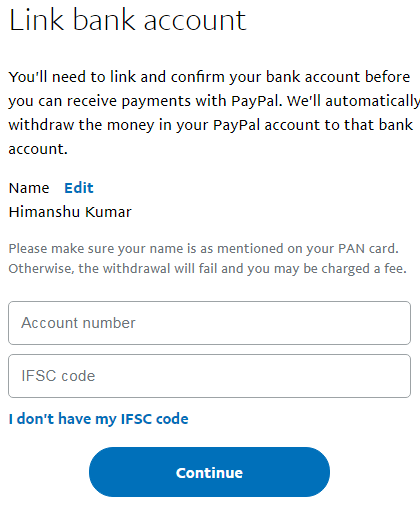 Your name on your bank account must be the same as your PAN card.

Within 5 business days, PayPal will send two small amounts to your bank account. When you receive the deposits login and enter the two amounts to verify your Bank account.

9. You need to upload a document for identity verification. Select the document type and upload a clear picture of it. You can scan the document or use an app like camScanner to take a better picture of the document.

10. Check your bank account for the two small deposits (between ₹1.01 to 1.50) and enter those amounts to verify your bank account and activate your PayPal account.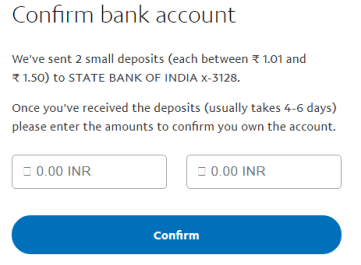 If you followed all the steps, you can now receive and send payments through PayPal.

How to Receive PayPal Payments:
It's pretty simple. You just need the email address that you used to create your account. Any PayPal user can send money to you via that email.

Whenever you receive a payment into your account, an email will be sent to notifying you about the transaction.

How to withdraw From PayPal to Bank:
Users from India don't have to worry about that. Due to Indian Govt. regulations, any payment credited in your PayPal account is automatically withdrawn to your linked bank account within 7 days.

How to Pay Through PayPal:
Sending payments through Paypal is also easy. You can use PayPal to send money abroad or shop.

To send money or payments you will need to link a Credit or Debit. If you didn't link a card during the signup process, here's how you can do it:

1.Login to your PayPal account and go to the Payment Methods tab.

2. Click Link a Card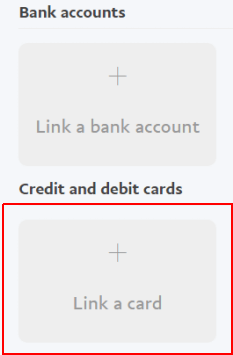 3. Enter the required details of your card. PayPal supports 4 cards- Visa, MasterCard, American Express and Discover.

Don't feel comfortable sharing your primary cards details? Or Don't have a Visa or MasterCard?

Then you can get a virtual MasterCard/Visa debit card. The benefit of using a virtual debit card is that you can easily switch off/block and on/unblock the card anytime through an app.

To send money to someone they must have a PayPal account. You just need to enter the recipient's email address and amount to be sent. But Personal payment to friends and family isn't supported in your PayPal India account. You can only send payments to someone for an Item or service. It means that the receiver will be charged some fee.

So technically you can send money to your friends and family it's just that they won't get the whole amount you send, some fee will be deducted.

But can still use PayPal to shop and for other transactions. If you are shopping online, look for PayPal under the payment methods and if it's there you can pay through PayPal.

PayPal.me:
PayPal.me makes it easier for you to send and receive payments. Instead of an email address, you can use a PayPal.me link to send and receive payments.
How PayPal.me Works
With PayPal.me you can create your own link which anyone can use to send payments to you. They just have to follow the link enter the amount and pay.

If you are sending payment to someone you have to do the same.

A PayPal.me link looks like this: paypal.me/youruniquelink

How to Create your PayPal.me link:
1. Head over to PayPal.me and hit the Create Your Link button
2. Click on Get Started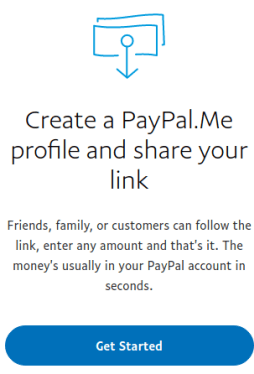 3. Add a photo. Your photo will be displayed when someone is paying through your link. This is optional though.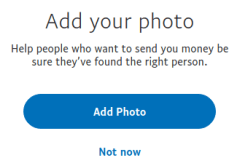 4. Now create your unique link. You can only create one PayPal.me link and once created it can't be changed. However, you can turn off the link. This means that nobody will be able to send payments through that link until you turn it back on.

Here are the guidelines for selecting a PayPal.Me link:
It can only contain alphanumeric characters (letters A-Z, numbers 0-9) and can't contain symbols, dashes, or spaces.
It's limited to maximum 20 characters.
It's not case sensitive, but casing is recommended to improve its readability.
Profane, offensive, defamatory or reserved trademarks are forbidden even if the link is available. Violating this principle may cause the suspension of your account.
If your preferred link is available a tick/checkmark will appear next to it: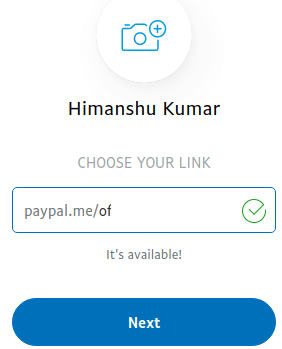 5. Review your profile agree to the terms and create your unique link.

Now you can share this link to receive payments.

Is PayPal Safe?
Yes, PayPal is a safe way to send and receive money. I've been using PayPal for a little over 5 years and never had any problems. But nothing is 100% secure. Everything that is online, faces some degree of risk.

The best way to minimize the risk of losing your money is to avoid using your primary card. You can also use a virtual card, that can be blocked and unblocked anytime. Of course, your PayPal account password should be strong changes on changed once every 6 months or a year.
PayPal iOS & Android App:
You can also download the PayPal app on your mobile and use it to send payments anywhere. You can install the app from the Google Play store for Android and Apple App store for iOS.

With the PayPal app, you can do everything that can be done on the website except modifying a few settings.

Don't forget to protect the app from unauthorized access by enabling the applock security -password or fingerprint. Don't use Pattern.