AttaPoll Referral Code. AttaPoll is an app where you can earn money by completing surveys. I have already mentioned this app, in my list of top Android apps to make money online. Recently they launched a referral program that lets you earn 10% of whatever your referrals earn. A user is considered your referral when he registers with your referral link / code.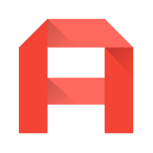 On the AttaPoll app the money you earn by completing surveys and as commission from your referrals can be withdrawn to PayPal. For every survey that your friends complete, 10% of what they earn. Yes, it is less than what Poll Pay offer(15% commission). But the more apps you have, the more you can earn.
Also Read: Poll Pay Invitation Code | $50+ Proof | How to Earn Money
AttaPoll Referral Code 2021
| | |
| --- | --- |
| App Name | AttaPoll |
| AttaPoll Referral Code | tuynv |
| Refer and Earn | 10% of what your friends earn |
| Withdrawal Options | PayPal |
| Minimum Withdrawal | $3 |
| Is AttaPoll Legit? | Yes |
| AttaPoll App Download | Link |
Also Read: Feature Points App | Earn 50% of Referrals[($225 Proof)]
How to Sign up with Referral Code
1. Download the AttaPoll app and Agree to the terms of use & privacy policy and tap Continue. Or you can read the terms of use and privacy policy, but let me warn you- it's going to take hours.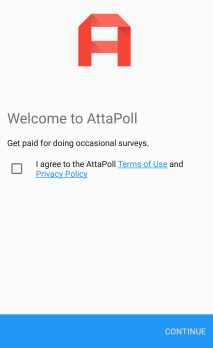 2. Select a Google account to login with.
3. Go to Settings and tap Enter referral code.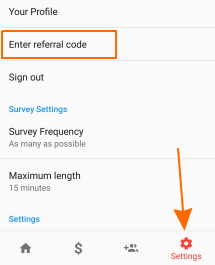 4. Now enter AttaPoll Referral Code: tuynv.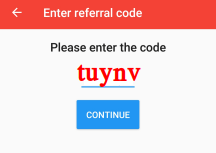 5. Go to the Home tab and complete all the profile surveys to earn $0.10 and get more surveys.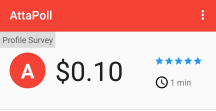 AttaPoll Refer and Earn
You will earn 10% of the money that your friends earn by completing surveys. You won't get commission from their referral earnings. And there is no limit to the amount you can earn through the referral program.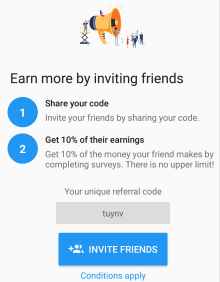 Switch to the Invite Friends tab.
Tap Invite Friends and share your code with your friends.
Ask your friends to apply this code after sign up.
Get 10% of what they make by completing surveys for life. There is no upper limit. That means you can earn unlimited commission from each of your referrals.
There is also no limit to the number of users that you can invite to the AttaPoll app.
For example: If you have 100 referrals and each of them complete a survey worth $10; then you will get 10% of $1000 which is $100. So AttaPoll survey app offers a great way for influencers to earn passive income. Just refer users to the app and keep earning commission for every survey that your invited users complete.
How to Earn Money with AttaPoll App
Well, to earn money with AttaPoll app, all you have to do is complete surveys.
After sign up, you will receive a couple of profile surveys.
You must complete these surveys to get higher paying surveys based on the information you provide.
Also make sure you invite as many users to the app as you can because the more referrals you have the more passive income you will earn.
Other than the tasks mentioned, there isn't anything else that you can do, although it always a good practice to answer the surveys truthfully. And also don't speed through the surveys, these things might impact the number of surveys you get in the future.
AttaPoll Withdrawal Rules
You can redeem your earnings to PayPal or donate it.
Minimum Redeem: $3.
It is not necessary that your PayPal email address and the email you used to register on the AttaPoll app match. For each withdrawal, you will need to enter the email address linked to your PayPal account.
Once your withdrawal is complete, you can transfer it from your PayPal account to your bank account.
Note: Indian users do not need to manually transfer their funds from their PayPal wallet. It is automatically transferred to the verified bank account within a few days.
AttaPoll Payment Proof
Currently, I haven't redeemed from AttaPoll app. But I will post my payment proofs as soon as I do.
Customer Care Details
Support Email: info@attapoll.com
Frequently Asked Questions(FAQs)
Q: Is AttaPoll Legit or not?
A: Yes, AttaPoll is legit just like the Poll Pay app and one of the best survey apps in India.
Q: I'm from India, can I earn using this app?
A: Yes, users from India and most other countries can join the AttaPoll platform and earn money by completing surveys. But the number of surveys that third tier country users receive is significantly less than other countries.
Q: How can I withdraw my earnings?
A: You can withdraw your earnings to your PayPal account.
Q: What is the minimum payout?
A: $3
Q: Is my information safe with AttaPoll?
A: Well, they will share your information with the company that paid them to run the survey. So if you don't want to share any information, then survey apps aren't for you. But most surveys don't require personal information and if you don't feel comfortable sharing something, you can just quit the survey.