Do you want to open a zero balance savings account on FI Money app?
You might be already aware of the FI Money app as it has been advertised very heavily during the IPL season on hotstar and many TV channels. The FI Money allows you to open a zero balance saving account within 5 minutes and without any hidden charges. Not only that you will also get a free visa debit card that can be used to withdraw money from your account from any ATM in India.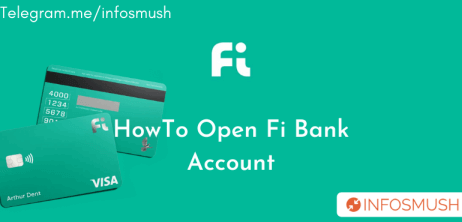 The FI Money app can fulfill all your banking needs while also providing all the tools that you made may need to track your expenses and savings. If you wanted to open your savings account on the FI Money app but don't know where to begin in this article I am going to show you how you can create aur open your savings account with this app.
Also Read:
What is Fi Money app?
It is a smart banking app that allows you you save money and track your expenses and also spend your money via UPI or your virtual debit card that you can also order of physical copy of.
FI Money app you open a zero balance savings account that means you don't have to maintain any minimum balance in your account and there won't be any charges for keeping the balance in your account to zero.
How To Open Fi Savings Account
First install the FI money app on your phone from Play Store or App store.
Open the app and enter your full name as in your PAN card and Aadhar card.
SELECT YOUR EMPLOYMENT STATUS WITH THE COMPANY YOU WORK FOR AND YOUR POSITION IN THE COMPANY.
If you are self employed you will need to provide your LinkedIn ID for your Google account for FI app to verify your working status. Example: if you are a blogger you can just enter the link to your LinkedIn ID to verify your employment.
Enter your PAN card number.
Enter your Aadhaar Card number and verify it with OTP that will be sent to the mobile number that is linked to your Aadhaar card.
Now you will need to do a video identity verification by recording yourself saying some numbers that will be displayed on the screen. This verification can take up to of 5 to 10 minutes so be patience.
Once your identity has been verified, your account will be created, and you will get a virtual debit card linked to your account you can use anywhere with zero foreign exchange charges.
Now enter your permanent address and communication address. Your physical debit card will be sent to your selected address.
Features of FI Money App
zero balance savings account within 5 minutes and without any paperwork.
No hidden charges.
Free visa debit card with no cost as soon as you open your bank account.
Smart ways and tools to save money and keep track of your expenses.
Get your physical copy of the visa debit card delivered to your address for free.
Scan QR code and pay via upi.
Spend through the app and earn FI coins. Coins can be used to reduce various rewards like Flipkart gift card Myntra gift card and many other rewards.
How To Invite Friends to Fi and Earn Money
The refer and earn scheme is only available to users who have maintained a minimum balance of ₹2000 across their Fi savings account. After your average balance hits ₹2000 you can share your FI Money referral code and earn FI Coins for every user that signs up.
You need to maintain an average balance of ₹2000 for 10 days to be eligible for this program.
Now invite your friends by sharing your referral link/code.
Earn FI Coins when they sign up.
What Are Fi Coins?
FI coins are special coins that you earn by completing various tasks of performing transactions on the FI Money app.
FI can be redeemed for various gift cards and rewards like Amazon gift card Flipkart gift card Myntra gift card and more.
You can also earn more coins by referring your friends.
Fi Money Debit Card Charges:
Withdrawals from any Federal Bank ATM are free.
At other ATMs = 5 free transactions every month. After that, it's ₹20 per transaction
Other than that, there are no charges.
Is Fi Account Free?
Yes. Opening and maintaining a Fi money savings account free of any charges.