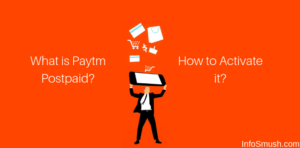 In 2018 Paytm launched Paytm Postpaid. This allows users to spend now and pay next month. But this service is only available to select Paytm users. Mostly, Paytm invites those users who keep ₹10,000+ in their Paytm Payments Bank.
Read: Top Apps to Earn Free Paytm Cash
Users who are eligible get this mailer: "Congratulations! You are among 1st few selected Paytm customers to get early access for Paytm Postpaid. Now, you can do your Mobile & DTH Recharges, Book Movie and Travel tickets & Shop on Paytm, without using your Card or Bank details or frequent wallet top-ups."
What is Paytm Postpaid:
With Paytm postpaid you can spend now and pay the same amount next month. It is kind of a really short term loan with no interest or charges.
Yes, you don't have to pay any interest as long as you clear the bill by the due date.
You can spend as much as you want as long as you don't exceed your spend limit.
One97 Communications(the parent company of Paytm) has partnered with Clix Finance to provide this service. Earlier the credits were offered by ICICI but that required Paytm users to have an account with ICICI bank. During activation, the account details were to be submitted. But now the activation process is easier.
What is Spend Limit?
This the amount of money that you can spend through Paytm Postpaid. It is determined by your transaction history on Paytm.
You can increase your Paytm postpaid limit by using Paytm Postpaid more frequently and paying your dues on time.
You can get a Spend Limit of up to ₹30,000.
Due Date:
No matter when you spend you need to pay back that amount by 7th of next month.
On the website the due date is 15th but in the mailer, it is 7th. So I contacted Paytm.
The due date is 7th of the next month.
How To Activate Paytm Postpaid:
If you have received the invite, you are eligible for Paytm Postpaid. Follow the steps below to activate it.
1. Open your Paytm app and go to "Passbook" or tap on "Paytm Postpaid"(it's next to Passbook).
2. Locate "Paytm Postpaid" and tap on it.
3. You'll see a quick guide to your Paytm Postpaid account. Tap "Activate My Paytm Postpaid".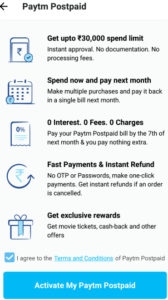 4. That's it. Your Paytm Postpaid will be activated with a speed limit according to your transaction history on Paytm.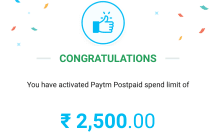 How To Pay using Paytm Postpaid:
When you are making a payment just like Paytm wallet an option to pay using Paytm Postpaid will be available.
You won't require any OTP or passcode to make the payment.
What Happens When You Miss Due Date?
There are no charges if you clear your bill before the due date. But if you fail to do it, late payment charges will be levied.
You won't be able to use Paytm Postpaid until you clear your outstanding debt.
Repayment Methods:
You can repay using Paytm wallet, UPI, Debit Card, Credit Card, or Net Banking
Should You Use Paytm Postpaid?
Sure.
But refrain from spending unnecessarily. Because you will be charged if you fail to repay in time.
Use it only when you don't have any other option.