I have already published a list of fantasy apps with Paytm withdrawal and 100% bonus usable fantasy app. In this article, I have listed instant withdrawal fantasy apps. It doesn't matter whether you can withdraw to your Bank account or Paytm wallet. Only those fantasy app are mentioned in this list that support instant withdrawals to paytm or bank.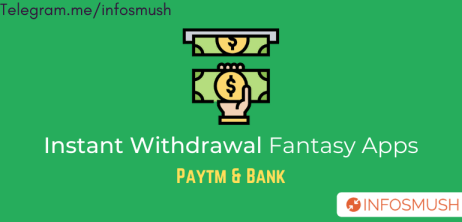 There are over 50 fantasy apps in India that let you earn real money by playing fantasy sports. But some fantasy apps take a long time to process withdrawals. Even Dream11 takes 7-10 days to process withdrawal requests.
So you might be looking for fantasy apps with fast withdrawals and minimum withdrawal limit.
Also Read: Minimum Withdrawal Fantasy App(Starting at ₹25)
Top 12 Instant Withdrawal Fantasy Apps
Instant Withdrawal Fantasy Apps 2021
1. OneTo11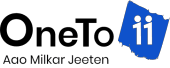 OneTo11 was launched last year, and it has already become one of my favorite instant withdrawal fantasy apps.
The best part about this fantasy app is that you can earn referral commission from your friends. And commission is added to your Network Commission wallet which is withdrawable and Deposit Cash which 100% usable in any contest.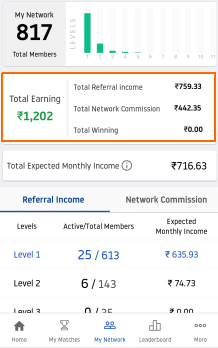 From OneTo11, you can only withdraw your winnings and commission to your bank account.
But the 2nd best feature of this fantasy app is the minimum withdrawal limit, which is just ₹50.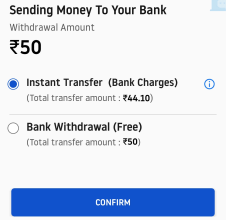 OneTo11 fantasy app supports both instant withdrawals and normal ones. For instant withdrawals, OneTo11 deducts some bank charges. The bank charge is just ₹5.90.
On sign up you will get ₹100 cash bonus and earn unlimited commission by referring your friends.
OneTo11 also has another app called OneTo11 Games where you can play games and earn Paytm money.
Referral Code: INAA3G8E
2. Sport11
Sport11 is a great fantasy app where you can also earn deposit cash by inviting your friends. It also has one of the worst affiliate programs in existence.
As a Promoter you can earn withdrawable income. You can become a promoter by paying ₹100 if that wasn't bad enough, you will only get ₹30 for each referral. But the worst part is that you will only get this amount after your referred user becomes a Promoter as well. So you get ₹30 when your invited user pays ₹100, how dumb is that?
Aside that, it is one of the few fantasy apps with paytm and bank withdrawals. Most of the time your winnings will be transferred instantly, but it can take up to 1-2 working days. It is still quite low as compared to other fantasy apps.
New users can get ₹100 bonus cash and use it to join paid contests.
Referral Code: SBPHY5
3. PlayerzPot

PlayerzPot is one of the best fantasy apps out there. You will find it in every list about any kind of fantasy apps. It has made much progress since 2019 IPL when it merely had enough users to sustain the business. And now it has more than 5 million users.
Playerzpot fantasy app allows instant Paytm and bank withdrawals. And the best part is that for Paytm withdrawals you don't need to complete KYC.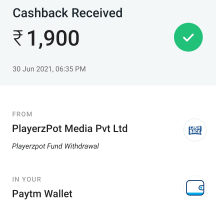 PlayerzPot has one of the best referral programs that lets you earn 2% of your friends entry fee as deposit cash up to ₹1500.
You can earn money on PlayerzPot by playing fantasy cricket, football, basketball, etc. Furthermore, you can also play games and win money.
Referral Code: KHIM5938
4. Sportasy
Sportasy is another new instant withdrawal fantasy app that I have already reviewed on infosmush.com. It is one of the most profitable apps due to the Affiliate Program.
You can become a Sportasy affiliate and earn 25% commission from your referrals. This commission is withdrawable.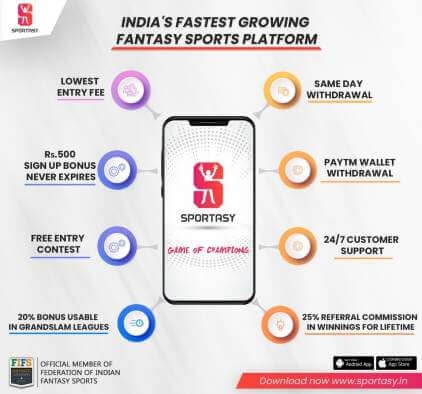 From sportasy you can withdraw your winnings to Paytm or Bank account. The minimum withdrawal amount is just ₹200.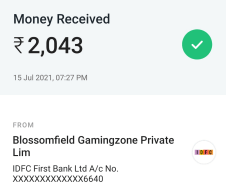 However, unlike PlayerzPot that doesn't require KYC for Paytm withdrawals, Sportasy does. For KYC, you would need to verify your PAN card and bank account details.
On sign up you will get ₹500 cash bonus.
Referral Code: INF500
5. MyFab11

MyFab11 is one of the oldest fantasy apps that has manage to survive this long. It was launched back in 2018 and recently Indian cricketer Sanju Samson has become MyFab11's brand ambassador.
You will get ₹50 cash bonus on sign up. The bonus is not 100% usable, you can only use the bonus to pay 10% of the entry fee.
You can also share your referral code with your friends and earn ₹50 cash bonus + 20% of their contest commission for every contest that they join lifetime.
Your first 3 instant withdrawals are free after that some charges will be levied. MyFab11 supports withdrawals to bank, UPI and Paytm wallet.
MyFab11 also lets you withdraw up to ₹200000 every hour.

Referral Code: HAEAII32
6. 11 Challengers

11 Challengers is really awesome fantasy apps that has a wide range of fantasy sports that rival the likes of MyTeam11 and Dream11. It also has one of the lowest withdrawal amount- ₹100(bank withdrawal).
You can sign up on 11 challengers with the given referral code and receive ₹100 cash bonus. Another great thing about 11 challengers is that it offer Giveaway contests.
The instant withdrawal of 11 challengers is a bit different from the other apps in this list. Because you can only request for instant withdrawals between 8:00 AM to 8:00 PM. You can only request the "normal withdrawal" before 8:00 AM and after 8:00 PM
Referral Code: INF100
7. Vision 11
Vision 11 is a fantasy sports gaming platform by Vision 11 Private Limited. You can create your fantasy team and join contests. The sports that you can play on Vision 11 are cricket, football, basketball, baseball, handball, hockey and more.
Vision 11 also provides quick or instant withdrawal facilities to bank or Paytm wallet. You must verify your account to withdraw your income.
You can create your account on Vision 11 fantasy app and get ₹100 cash bonus. You can also earn ₹100 by referring your friends. This bonus is not 100% usable.
Just like 11 Challengers you can join the Affiliate program and earn commission for every match that your friends join. The commission is added to your winnings.
Referral Code: INF100
8. MyTeam11

MyTeam11 is one of most popular fantasy apps that is endorsed by Virender Sehwag and many other cricket personalities. The app gives you ₹50 on sign up and another ₹50 cash bonus when your verify your PAN card.
You can also invite your friends and earn up to ₹1000 for each successful referral. You and your friend will get ₹50 when he registers. Furthermore, you will also get 5% of whatever friend deposits to his account up to ₹1000.
MyTeam11 supports 3 types of withdrawals: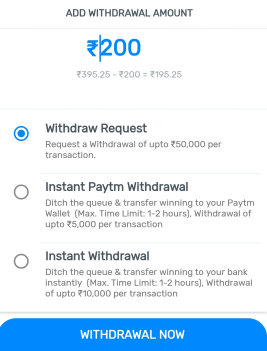 Instant Withdrawal: Instantly withdraw to your bank up to ₹10000 per transaction
Instant Paytm Withdrawal: Withdrawal of up to ₹5000 per transaction
Withdrawal Request: Withdraw up to ₹50000
Referral Code: M6Z0QR3PXY
9. Play Time
Qureka Pro was recently renamed as Play Time. Play Time is a gaming platform where you can play games and fantasy sports and win real money.
In many ways it is an imitation of MPL gaming app but fortunately not a bad one. The app was launched (may be) in the year of 2019 as play games and earn paytm money app. They then went on to add fantasy sports just like WinZO Gold did.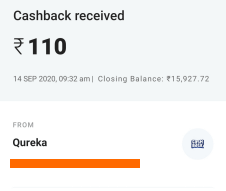 You can also invite your friends and earn up to ₹100 in deposit:
₹25 when your friend plays games of ₹50-₹99
₹50 when your friend plays games of ₹100-₹499
₹100 when your friend plays games of ₹500 or more.
The refer and earn feature is great as you can earn the referral rewards directly in your deposit wallet and use it to play games and fantasy cricket. But it used to be much better because the referral earning was added to VIP wallet and could be withdrawn.
Referral Code: 2703DC3C
10. Fantasy Power 11
Fantasy Power 11 is a great instant withdrawal fantasy app that can fulfill all your fantasy needs including an awesome refer and earn program. For every referral you will get ₹100 bonus + commission for every contest that they join.
You will also get ₹100 cash bonus on sign up.
Features of Fantasy Power 11:
Daily Contests
User Friendly
Live Score Updates
24/7 Customer Support
Cash Prizes Upto 50 Lakh Everyday
Earn Money from Point
Welcome Bonus
Instant Withdrawal
Referral Code: INF100
11. MPL

MPL is also another great fantasy and gaming app that is currently endorsed by Indian cricketer Virat Kohli. When it was launched it was really great as you could earn money playing games for free. But now that is not an option.
It is one of the first fantasy apps that started the instant withdrawal trend. The best part is that you can withdraw your winnings instantly to bank, Paytm or UPI. All withdrawals from MPL are instant.
Referral Code: WUEK73
12. Winzo Gold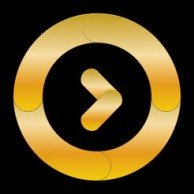 WinZO Gold is another great gaming and fantasy sports app. You can get ₹50 bonus on sign up but the bonus is not 100% usable.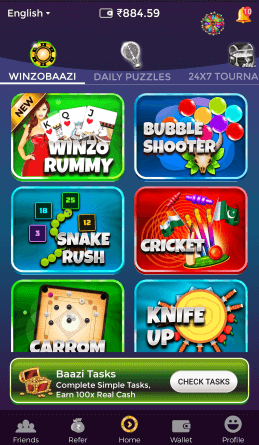 WinZO Gold has dozens of games, including rummy and other card games. You can also play esports tournaments for popular games like Call of Duty and Free Fire.
Referral Code: HIMC2218