Real 11 is a fantasy platform that was launched in 2018 . When I first came to know about this app and listed in the top fantasy apps it didn't even have an app.
But now the UI has been completely overhauled, and it finally looks promising. Not only that former Indian cricketer and commentator Aakash Chopra is Real11's brand ambassador.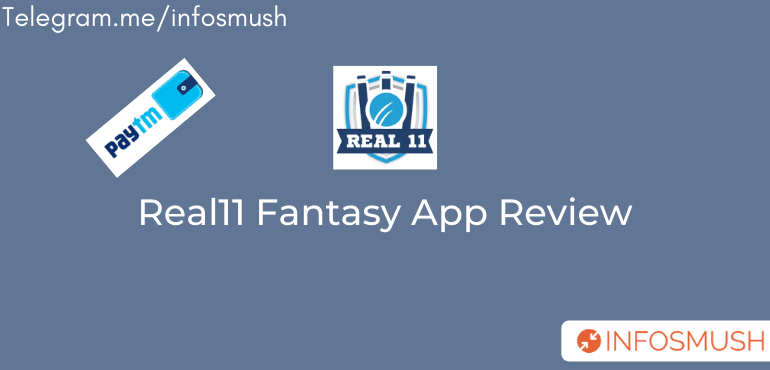 New users can get a sign-up bonus of ₹50 when you register with Real 11 referral code: INF50.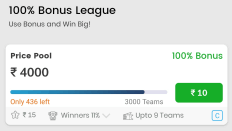 New: Now you can predict and win money on Real11. Use the table of contents(Jump To) to navigate to the section.
Features of Real 11:
Predict and Win Paytm Cash[New]
Paytm wallet withdrawals.
100% Bonus Contests.
Easy and fast UI.
Simple sign up process.
₹50 instant sign up bonus.
Refer and earn ₹50.
2nd Innings fantasy.
Real 11 Referral Code 2021
| Real11 Referral Offer | Real 11 Referral code |
| --- | --- |
| Fantasy App Name | Real11 |
| Real11 Invite Code | INF50 |
| Sign up Bonus | ₹50 |
| Refer & Earn | ₹50 |
| Bonus Usage | up to 100% |
| Minimum Payout | ₹250 |
| Download Apk | Click here |
| Verified | Yes |
Enter Real 11 Referral Code- INF50 and get ₹50 instant bonus on sign up. Real11 is one of the best fantasy apps with Paytm withdrawal. If you were looking for a trusted fantasy app with Paytm withdrawal option than you can try this one.
Read: OneTo11 Referral Code | Withdraw Network Income[11 Level]
Real11 App Download
The Real 11 fantasy app is available for Android and iOS devices. You can click the links below depending the type of smartphone you use.
How to Get ₹50 Bonus on Real 11
1. First, download the latest version of real 11.
2. Open the app and tap "Have a referral code? SIGN UP".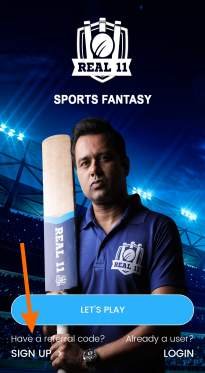 3. Enter Real11 Invite Code- INF50. And your mobile number, email address and password.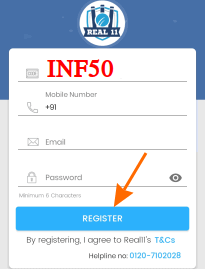 4. Enter the 6-digit verification code.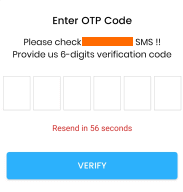 5. You will get ₹50 bonus cash.
6. Go to Wallet tab and click Verify Account.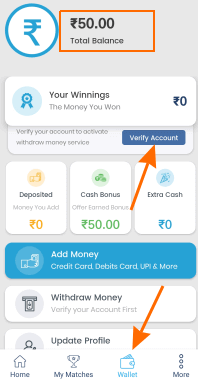 7. Tap Verify. A verification email will be sent to your email address.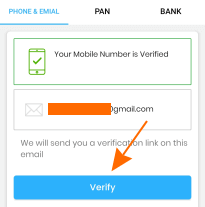 8. Now click on the verification link you received via mail.
Real11 Refer & Earn
With the Real 11 referral program you can earn up to ₹50 bonus cash for every friend that registers using your referral code and plays.
1. Open the app, go to the More tab and click Invite Friends.
2. Tap Invite Friends.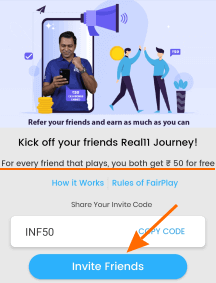 3. Share your invite code with your friends.
4. Your friends will get ₹50 cash bonus as soon as they verify their mobile number.
5. And ₹50 will be credited to your cash bonus when they play.
Real 11 Spot Fantasy: Predict & Win
For the IPL 2021, Real11 has launched a new kind of fantasy- Spot Fantasy. In this, you will have to make ball by ball prediction to make a set and win money.
How to Play
Open the app and select Play Spot Fantasy. Currently, it is only available for IPL matches.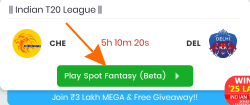 Select a block of overs and tap Create Set 1.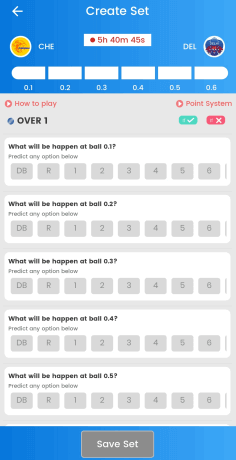 Now make your prediction for the selected over.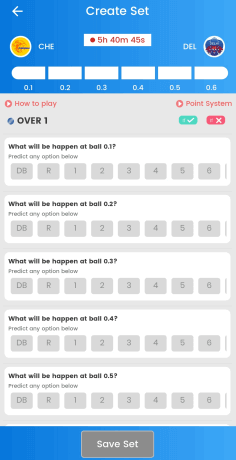 You will need to predict for every ball.
Save your set.
Now join contests.
The user with better prediction will win the contest.
Details About Spot Fantasy
Spot fantasy can essentially be defined as a ball by ball prediction game for an entire match.
Make the right prediction, gain points and stand a chance to win. It provides you with the golden opportunity to earn rewards for each and every ball of a match.
Spot Fantasy winners are determined based on the total points gained. Points are allotted based on the prediction made.
Within the prediction if a user specifies what exactly will happen in the next ball; he/ she is rewarded with more points.
For example: If a user says that two runs will be scored in the next ball and the batsman actually scores two runs of that ball then the user will gain more points compared to a user who just predicted runs and not exactly specified the number.
You get marked according to the predictions you make. Every correct answer gives you a point whereas an incorrect guess will result in a negative point.
After making the predictions for the chosen over, join contests as per your convenience.
Note: This feature and the points for it are only valid and evaluated for all the legal deliveries in a match.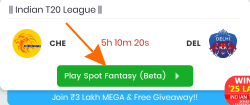 Rules
Select the over you want to compete in
Create set and make predictions for every ball of the chosen over
Points will be allotted based on your assumptions
Every right guess earns you a point whereas an incorrect guess will result in a negative point.
After making estimations, join contests as per your preference.
Spot Fantasy Point System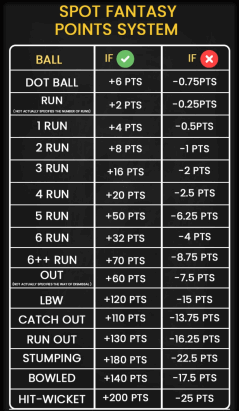 Detailed Calculation:

SPOT FANTASY FAQ
Q1. How are points distributed in spot fantasy?
Ans. Points are allocated according to the predictions made for every ball. A correct guess would result in a point whereas an incorrect estimation would induce a negative point. For more info regarding the points, refer to the points system section.

Q2. What if I make a wrong prediction for any ball?
Ans. A wrong estimation would result in a negative point

Q3. How are the winners determined for spot fantasy?
Ans. The winners for the spot fantasy are determined according to the points obtained. The more the points, the more are the chances of your victory.

Q4. What happens in the case of an extra ball (wide, no)?
Ans. Spot Fantasy is only applicable for all legal deliveries during a match. No extra ball in an over would be taken into account while calculating your points.

Q5. Can I compete throughout the game via spot fantasy?
Ans. Yes, and that's the beauty of it. Not only it allows you to make predictions for every ball, but it also gives you the opportunity to join contests and win exciting cash rewards.
Real11 Deposit Promo Codes:
Real11 has many deposit offers for both new and existing users. With the promo/coupon codes given below you can avail extra cash bonus on your deposits.
| Promo Code | Add | Get |
| --- | --- | --- |
| BYE1 | ₹250 | ₹100 |
| BYE2 | ₹1250 | ₹500 |
| BYE3 | ₹5250 | ₹2100 |
| BYE4 | 10250 | ₹4100 |
| END50 | ₹100 or more | 50% |
To use the given promo codes or to add money to your account follow the steps below:
Tap the Wallet tab.
Hit Add Money.
Now enter the amount you want to add and apply the promo code.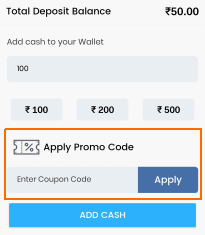 How to Play Fantasy Cricket on Real11
Playing your first fantasy game on Real 11 is pretty straight forward. And with the simple UI new fantasy players won't get lost in the navigation. Even so here's a short tutorial.
1. On the home page of the app you will see all the upcoming matches for the selected sport. You can toggle between Cricket & Football anytime to view that sport's matches.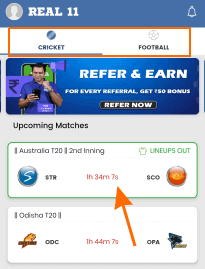 2. After you have selected a match you will be taken to the Contest page. Here click on Create Team 1.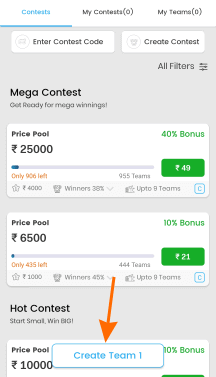 3. Select 11 players for your team. Like most fantasy apps the credit limit is 100.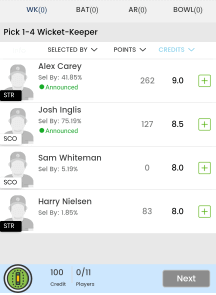 4. Now select captain & vice-captain and save your team.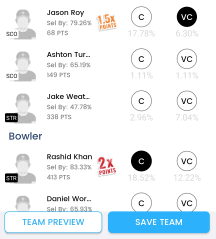 5. Join any contest using the team you created.
How Much Bonus Can I Use On Real 11?
The answer is up to 100%.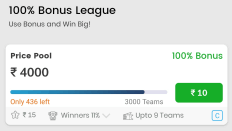 In some contest, you can use up to 100% bonus.
Read: 16 Best 100% Bonus Use Fantasy Apps
How to Withdraw Money
Real 11 allows you to withdraw your winnings to:
1. Go to the Wallet tab and click Verify Account.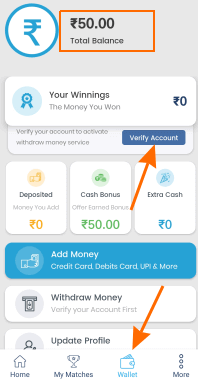 2. Now verify your PAN and Bank account.
3. After you have verified your account, go back to the Wallet tab.
4. Tap Withdraw Money.
5. Enter the amount you want to withdraw and select the withdrawal method
Minimum Withdrawal Amount: ₹250.
Real 11 Customer Care Contact Number
Customer Support Number :- 01207102028
Email Address :- Support@real11.com.
Office Address :- BSI -106, H-160, Noida Sector-63, 201301