I was receiving many requests for compiling a list of apps that allows users to win paytm cash by predicting the things that you think will happen in a sports match.
Most of the apps listed in this post have already been reviewed here on Infosmush. So, if you want more details about an app, just search the name of the app in the search bar.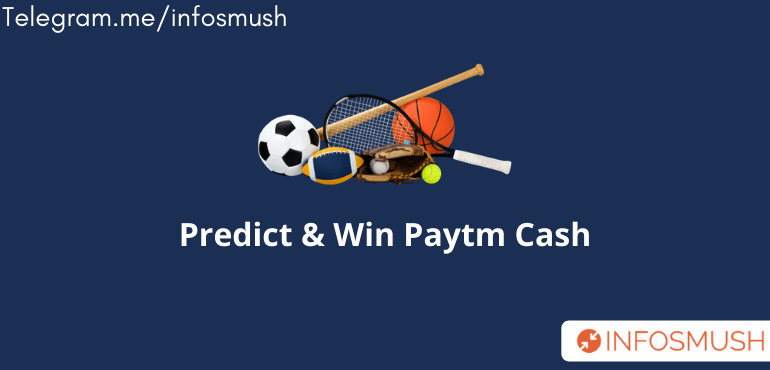 Predicting is one of the fun ways of winning paytm cash. I myself use many of the apps listed here. Almost everyone loves to predict. This can be proved by the fact that people enjoyed fantasy sports and making predictions long before the money was involved(online). It is like a game it's just that you can win paytm cash.
Read: 43 Apps to Earn Free Paytm Cash
Best Cricket Prediction Apps to Earn Money
1. Probo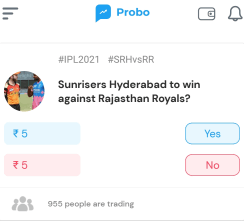 Probo is one of the best predict and win cash app in India that you can download now on your Android. The best part is that it is not limited to cricket match predictions. You can predict on many other things and sports.
For example; you can predict on crypto, finance, business and many other categories. You can also play prediction game for other sports like Football, Volleyball and earn money.
On sign up you will get ₹20 added into your wallet. You can use this amount to make predictions. The refer and earn program allows you to earn ₹20 for each invite.
2. TP Gold: IPL Prediction
TP Gold or Teen Patti Gold is primarily a money earning game. But during this IPL season they have added a new game called IPL Predictor.
As the name suggests, you just have to select a bet amount and predict the outcome of the IPL cricket match. Then just wait for the results.
The minimum bet amount is ₹200 and the maximum amount that you can bet is ₹10000. The best part is that you can get up to ₹195 on sign up.
3. Teen Patti Master
Teen Patti Master cricket prediction app earn money is very similar to the app listed app. On both of these apps you can get sign up bonus of ₹150 or more and use it however you but. But you can withdraw it.
On this app as well you can only predict on IPL matches.
4. Rummy Gold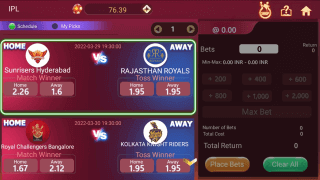 Don't be fooled by the name of this prediction app. The name might have rummy word in it but you can still predict the outcome in IPL cricket matches and win money. For every IPL match you can predict two things: The match winner and Toss winner.
So in each match you have two chances to earn money.
5. Zupee Gold
Zupee is an Android app that can be downloaded from the play store. You can easily login with your Google account and start predicting.
On Zupee you can earn paytm cash by playing quiz tournaments on various topics like Maths, GK and Bollywood. And also by making predictions for cricket matches of India and IPL.
All the quizzes and prediction games are free to participate and live. So you need to answer/predict when the tournament starts, not before not after.
On Zupee Gold the tournaments are paid. You need to pay the entry fee of the tournament that you want to participate in.
On signup, you will get 2 tickets that you can use to join tournaments for free and win paytm cash.
Zupee Referral Code: p16o9xe
6. Real 11: Spot Fantasy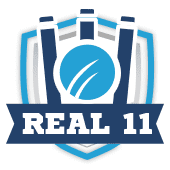 Real 11 is one of the best fantasy apps with instant Paytm withdrawal. New users can get ₹50 cash bonus on sign up. And if you are an existing user, you would be glad to know that now you can predict to win more money.
How to Predict and Win Paytm Cash:
Open the app and select Play Spot Fantasy. Currently it is only available for IPL matches.
Select a block of overs and tap Create Set 1.
Now make your prediction for the selected over.
You will need to predict for every ball.
Save your set.
Now join contests.
The user with better prediction will win the contest.
7. MyFab11

MyFab11 is one of the best fantasy apps in India. It is a great cricket prediction app to earn money and Paytm cash. Because it also lets you withdraw your winnings to Paytm wallet. When you register on MyFab11 you will get ₹100 cash bonus.
But the best feature of MyFab11 is the referral program. Because you can earn unlimited real cash by inviting your friends. For each invite, you will get ₹100 cash bonus + 20% commission. The commission is added to your winnings, so you can either withdraw it or play fantasy cricket or prediction game and earn money.
Referral Code: HAEAII32
How to Play Prediction Game on MyFab11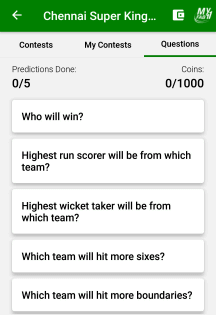 Open the app and select More games.
Select Super Predictor.
Now select the match for which you want to predict.
Switch to the Questions tab and make the predictions.
You will have a total of 1000 coins that you can distribute on your predictions.
On each prediction, you can stake up to 300 coins.
The more coins you bet, the more coins you will win.
After you have made your prediction, join any contest.
The rank will be decided by the coins you win.
8. Nostra Gamus Pro
This is one of the best apps to Predict and win Paytm cash. Nostra Pro allows you to play the prediction quiz for over 9 sports including, cricket, hockey, football, and tennis.
While you are making predictions you also have powerups that you can use to improve your chances of winning.
Nostra pro is one of the best apps to predict and win paytm cash.
Unlike the other apps, on Nostra Pro, you can create multiple sets of predictions and join different contests. It's like creating multiple teams and joining different leagues. Your rank depends on the points scored.
Referral Code: HIM2880
Bonus: ₹100
9. Trago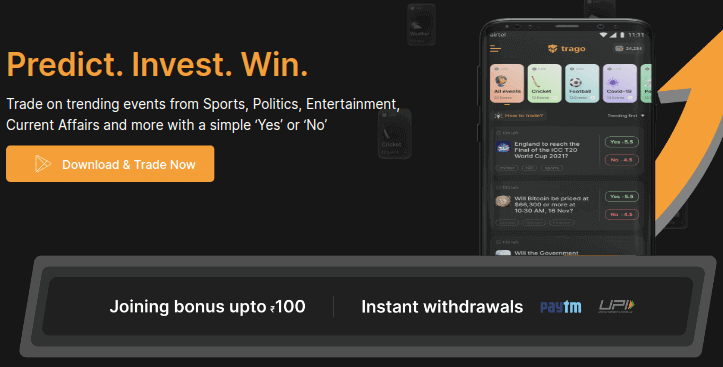 Trago is a new prediction earning app that is quite similar to Probo. In fact it is the same as Probo when it was first launched. And like Probo there are many categories in which you can predict in to earn money
Prediction Matches:
1. Each match will have a set of questions that you need to answer (predict) before the actual game starts.
2. Once you have submitted an answer (prediction) you cannot change it later.
3. You get 2 points for every right answer (prediction), -1 for every wrong answer (prediction). You also get 3 extra points in case you answer (predict) 3 questions right in a row & 5 extra points (loyalty bonus) for answering all questions for a match.
4. The winners for a match are decided depending upon their scores & time taken to answer all questions.
5. Prizes will be given basis the prize metrics for the game.
6. Some Prediction matches may have entry by doing an activity like watch a video
Referral Code: g6tz4
10. Winzo Gold
On WinZO Gold you can participate in free IPL quizzes and win cash prizes.
To participate in these quizzes you'll need tickets.
You can collect tickets by referring your friends, spinning the wheel of fortune, etc.
Referral Code: HIMC2218
11. Rooter App
Rooter is the first predict-and-win app that I reviewed on Infosmush. Rooter is available for iOS and Android devices.
Prediction Game:
On Rooter you can make predictions during live matches. For every prediction that comes true, you will win coins.
Real-time Fantasy Game:
You can also play real-time fantasy cricket. When the match begins or before it, you can select 4 players and join a tournament. The tournaments have 5 players(including you). Entry fee for a tournament is 250 coins.
What makes it "real-time" is this: You have "Powerups" and you can substitute your 4 players. Some powerups can be used to boost your players while others can attack the players of your opponents.
You can redeem your coins for Paytm voucher/coupons.
12. Hotstar
With Hotstar Watch & Play you can make ball-by-ball predictions and win lots of prizes including paytm cash.
So this was my list of apps where you can predict and win paytm cash. Do you know any other apps?
Read: 12 Apps to Play Games and Win Paytm Cash
If you have the longest streak(consecutive correct predictions) a question will be asked. If you answer the question correctly you'll win the weekly cash prize. If there are more than one winner prize money will be split equally.
The weekly streak resets on Sunday.
Did I miss something? Comment down below the apps where you predict to win Paytm cash.