I never cared to try or review this 'OneAD' app. I always thought why would anyone need an app that is supposed to display offers and deals on your lock screen but won't pay you for that.
And the only way to make money is to refer your friends.
How far can you go with that?
I had made all that up just by reading a few lines of description. And I was right. OneAd "Was" a useless app. But a few months ago the Developers decided to add games to the app. Which makes that app somewhat helpful in earning some free Paytm cash.
Is OneAd Real or Fake?
Well, it's totally genuine/legit. It does pay its users but that isn't the problem here. Even though OneAd is not fake, it's still not worth the effort. Read the complete review to find out why.
How to Make Money with OneAd App:
#1. OneAd Games:
They recently included games in the OneAd app. so now you can earn money by playing games too.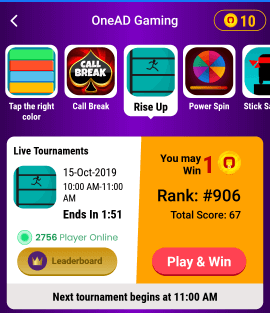 There are over 11 games.
All the games have 1 tournament that runs for 1 hour. You can join these tournaments for free and win Game Points.
You can win up to 200 Game Points per tournament.
100 Game Points = ₹1.
Your Game Points are automatically converted to cash after midnight.
#2. Refer & Earn:
You can earn money by referring your friends to OneAD. But the problem is they gotta be active for you to earn even a penny.
So, who is an active referral?
Well, an active referral is one who allows OneAD to run ads on the lock screen & OneAD is able to display ads on a daily basis. Basically, they are drawing huge income by throwing ads on your lock screen(and also when you use the app) and sharing a small part with you.
Trust me, if your referrals want to get offers on their lock screen they would simply turn off ads. But then, they won't be active.
#3. OneAD Contest:
This contest was recently introduced. In this contest, you can win up to Rs. 50.
The contests start at 12 PM and held for every 3 hours (12-3,3-6,6-9).
You don't have to pay anything to participate.
Here's how the OneAD Contest works:
1. On the wheel, there are prizes ranging from Rs. 1-50. And each prize has a different number of winners. E.g., Rs. 50 prize has only one winner while Rs.1 prize is given to 50 users. You spin the wheel and on whatever prize the arrow is pointing(when the wheel stops), you can play for that prize. You can spin the wheel again by watching a video.
2. After you have the prize you want, you need to tap the Confirm & Play button.
3. Now you will be asked a question. You answer correctly, your entry is confirmed.
4. The winners are chosen randomly.
You can withdraw your winnings to your bank account.
Coupons & Deals:
Like I earlier said OneAD displays coupons and offers on your lock screen. And that's what they in the description on the play store. but, what they don't tell you is that they display Ads before offers on your lock screen.
And if you want to turn off the ads your income from active referrals(more about active referrals later) will reduce by 75%.
Seriously, why would you want to see offers on your lock screen when apps like Slidejoy pays you for the same.
And if you are looking for apps that notify you of offers, coupons and deals try these 3: GrabOn, Savemonk, and Crownit
Why OneAd App is Not Worth Your Time:
Contests were the only sane way to earn a little cash on OneAD until 'OneAd Gaming'. You won't be able to make anything out of their referral program. As to earn from your referrals, your referrals should be active. Meaning they need to allow OneAD to run ads on their lock screen.
But now you can earn money by playing games for free. So you can enjoy playing games and win money. And since you don't have to pay anything to jin tournaments you won't have to worry about losing.
So OneAd app is worth your spare time.
You can enter this OneAd referral code for ₹0.50 extra bonus: BG29SP7