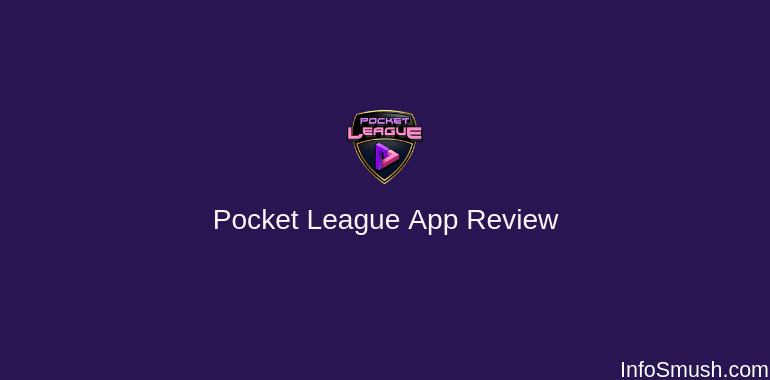 Love playing games and winning cash?
The app that I'm reviewing today is Pocket League. With Pocket league app you can win Paytm cash just by playing games. If you haven't already, check out these apps that also let you win Free Paytm cash by playing games:
This app is quite similar to MPL for example just like MPL and MPL Pro, there are two Pocket League apps- 1. Pocket League and 2. Pocket League Pro. As you already know according to Play Store policies apps that involve gambling or any kind of money-risk cannot be published on the Play Store.
So the Pocket League app (in the store) doesn't allow users to deposit cash. That's it. That all the difference there is.
Is Pocket League worth your time? Read the review and decide for yourself.
Sign up Process:
Pocket League has a straight forward sign up process. You can either login/sign up with your Facebook account or mobile number. You can enter this referral code to get a ₹2 bonus: kFQrR1jI
How Pocket League App Works:
As a new user, you will get a bonus of Rs. 20 and 20 coins. You can get an additional Rs. 2 by entering this referral code:
Coins and Cash can be used to join tournaments for any game. You will win cash or coin according to your rank. Once you have joined a tournament you can play unlimited times until the tournament ends. Only your high score is used to calculate your rank.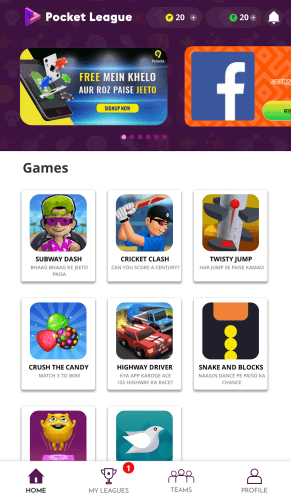 But the hiccup is that there is no way to earn coins and you can only earn more cash by referring your friends. The reward for referrals is also incredibly low: Rs. 2.
So if you run out of cash and coins the only choice you have is to deposit money. Which is not a bad thing. If you have some gaming skills you can deposit and win more cash. But for casual gamers, it might be tougher.
There's more: Occasionally(before the score screen) you'll be greeted with ads, which wouldn't have been nearly as annoying if the ads were static, and not video ads. Because for a video ad you have to wait for some time before you can skip or close it.
Pocket League: Refer & Earn:
You can share your referral code with your friends and when they enter it you both ₹2 bonus.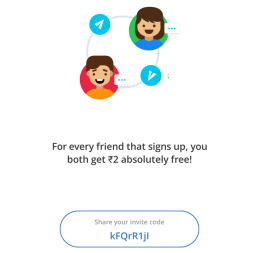 You can enter this Pocket League referral code to get the cash bonus: kFQrR1jI
How to Withdraw Winnings:
Open the app and go to Profile tab.
Tap Withdraw to withdraw your winnings.
You must complete your KYC before you can withdraw.
You need to submit Aadhar card, PAN card or Driving License for verification.