Khelo Fantasy Live referral code. Khelo Fantasy Live is a new fantasy app that was launched in 2020, and they recently signed Samir Kochha as their brand ambassador. Sadly on sign up you don't get any cash bonus at all. Instead, you will earn coins that can be redeemed for Real Cash. You will earn 50 coins as sign up bonus when you enter this referral code- INF100.
The referral program is probably the best thing about the Khelo Fantasy Live app. By referring your friends, you can earn ₹25 real cash when your friend registers with your code. And your friends will get 50 coins. You will also earn royalty rewards as you invite more users.

To withdraw your winnings from KheloFantasy you must verify your account. You can only withdraw your winnings to your bank account. The cash you earn by referring your friends can be used to play fantasy cricket.
Also Read: 10 Best Fantasy Cricket Apps
Khelo Fantasy Live Referral Code | Apk Download
Enter Khelo Fantasy Referral Code- INF100 and get 50 coins as a sign-up reward. The coins can be exchanged for real cash. You can also refer your friends and earn ₹25 for each referral.
| | |
| --- | --- |
| Fantasy App Name | Khelo Fantasy Live |
| Referral Code | INF100 |
| Khelo Fantasy Apk Download | Click here |
| Sign up Bonus | 50 Coins |
| Refer and Earn | ₹25 Real Cash |
| KheloFantasy Minimum Withdrawal | ₹200 |
Similar Fantasy Apps:
How to Register on Khelo Fantasy Live Apk
1. First, download the Khelo Fantasy Live apk and install it on your device.
2. Open the app and tap sign up.
3. Enter your mobile number and proceed.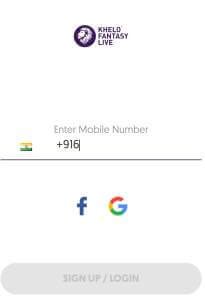 4. Verify your mobile number by entering the OTP you received.
5. Enter the Khelo Fantasy Live Referral Code:- INF100.
6. Enter your email address.
7. Pick a username.
That's it, your registration is complete. Now you can deposit cash into your wallet or refer friends to get some funds. Then you can start playing fantasy cricket.
Khelo Fantasy Live Referral Program
As I mentioned at the beginnings of this review, this fantasy app has a great refer and earn system. Because, for every user that registers and enters your code, you will earn ₹25 real cash. That means you can use your referral earnings to play fantasy cricket because it is 100% usable.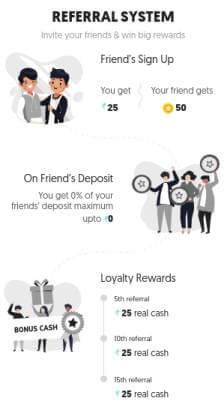 The reward per referral might seem low to some. But it is still better than earning bonus cash, which can't be used 100% to join fantasy contests. When you first try to enter the refer and earn section, you will have the option to edit your referral code. You can make your referral code personalized. However, your referral code must only have letter and numbers.
Open the app and select Earn Coins.
Now tap Refer.
You will be asked to edit your referral code. Enter the code that you want to keep and save it.
You will earn 100 coins as a reward.
Then you can share your code with your friends. Ask them to enter when they are signing up.
You will earn ₹25 real cash for each friend and your friends will get 50 coins.
Other than ₹25 for each referral, you will also earn extra ₹25 on 5th, 10th and 15th user that you refer. It will also be added to your deposit balance.
How to Play Fantasy Cricket on Khelo Fantasy
How to Verify your Khelo Fantasy Live Account
Like most fantasy apps, KheloFantasy.Live also needs to verify your account before you can withdraw your winnings.
But if you are looking for no KYC fantasy apps click here. The verification process is simple:
Go to Profile tab and click Verify.
Now one by one verify your email address, PAN card and bank details.
Once your account has been verified, you can withdraw your winnings to your verified bank account.
PAN Card Verification:
Enter your name, PAN card number and date of birth. Also upload a picture of the front part of your card.
Email Verification:
Just enter your email address and submit. You will get an email with a verification link. Click on the link to get your email address verified.
Bank Verification:
Enter your bank details(name, account number and IFSC code). And also upload a picture of your passbook.
How to Withdraw Money From Khelo Fantasy Live
Go to Wallet tab and click Withdraw.
Enter the amount you want to withdraw and hit Submit.
The withdrawal request will be processed within 7 days.
The minimum withdrawal limit is ₹200.
You must verify your account to be able to withdraw money from this fantasy app.
Also Read: Paytm Withdrawal Fantasy Apps
Khelo Fantasy Customer Care Number
Support Email: support@khelofantasy.live
There is no other way to contact the customer care expect the above email address.
Final Words
Khelo Fantasy Live is a great fantasy app for those users who can refer a few friends. Because, of the fact that you can earn real cash for each referral. So if you are an influencer, it is a great choice. And even if you are a normal fantasy player, you can still refer a few friends and family members to take advantage of the referral system.
Other than the referral program, Khelo Fantasy app doesn't offer anything unique. So it is your choice whether you want to use the app or not.
Khelo Fantasy Live Frequently Asked Questions(FAQs)
Can I trust Khelo Fantasy Live?
Well, i can't say anything for sure because the app is new and I haven't verified it yet. But they managed to sign Samir Kochha as their brand ambassador, so that's something.
What is the maximum sign up bonus I can get?
The maximum bonus that a user can get is of 50 coins. Yes, you won't get any cash on sign up, real or bonus.
What is the Khelo Fantasy Live Referral Code?
My Khelo Fantasy Referral Code is- INF100.
Khelo Fantasy T20 Rules & Scoring
NORMAL
In announced lineups4
Run1
Wicket Excluding Run Out25
Catch8
Stumping12
Run out (Thrower)6
Run out (Catcher)6
Run out (Direct hit)12
Dismissal for a duck ( Batsman, Wicket-Keeper & All-Rounder)-2
BONUS
Boundary Bonus1
Six Bonus2
30 run Bonus4
Half-century Bonus8
Century Bonus16
Maiden over12
3 Catch Bonus4
3 Wicket Bonus4
4 Wicket Bonus8
5 Wicket Bonus16
Bonus (LBW / Bowled)8
ECONOMY RATE
Min number of overs to bowled for calculate below rules for Economy Rate2
Below 5 runs per over6
Between 5-5.99 runs per over4
Between 6-7 runs per over2
Between 10-11 runs per over-2
Between 11.01-12 runs per over-4
Above 12 runs per over-6
STRIKE RATE
Min no of balls to be played for calculate below rules for Strike Rate (Except Bowler)10
Above 170 runs per 100 balls6
Between 150.01-170 runs per 100 balls4
Between 130-150 runs per 100 balls2
Between 60-70 runs per 100 balls-2
Between 350-59.99 runs per 100 balls-4
Below 50 runs per 100 balls-6