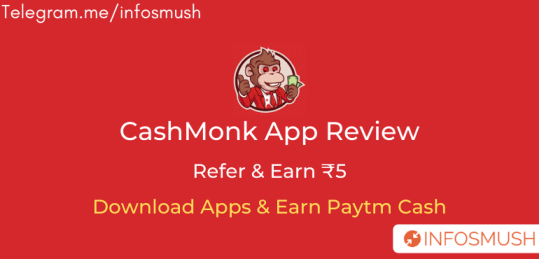 CashMonk is a Paytm cash earning app that was launched in October 2020 and was last updated on Jan 12 2021. At the time of publishing this review, it has been downloaded over 1k times from Play Store.
Note:- Don't try this app. It is scam. I withdrew twice but never received the payment.
CashMonk Apk Download
The CashMonk app can be downloaded from the Google Play Store. but if you want to download the apk file, I've given the link for that as well.
About CashMonk App
| App Name | CashMonk |
| --- | --- |
| Referral Code | 1CDD6DCA |
| Referral Bonus | ₹5 |
| Payment Method | Paytm wallet |
| CashMonk Minimum Payout | ₹50 |
| Refer and Earn | ₹5 + 10% of friends earnings |
| Verified | No |
CashMonk is an app where you can earn money by completing offers and referring friends. When I say offer I mean app download offers.
So you can earn money by downloading apps and games. Most offers on this app also require you to register on the downloaded app to get the reward.
New users can get a sign up bonus of ₹5 by using CashMonk referral code- 1CDD6DCA.
The money you earn can be redeemed to your Paytm wallet.
Read: mGamer Referral Code | Review | ₹5000 Paytm Proof Added
How To Register with CashMonk Referral Code To Get ₹5
1. Download the apk and install the app.
2. Open the app and sign in with Google.
3. Enter CashMonk referral code, Paytm number, date of birth, etc and hit Save.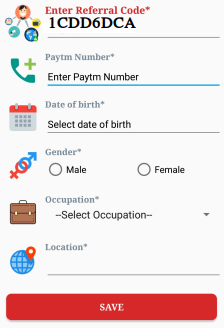 4. You will get ₹5 in your Cash Monk app wallet instantly.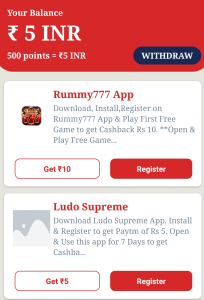 CashMonk Refer and Earn
On CashMonk app can also earn more money by sharing your referral code and with your friends.
1. Open the app and tap the Share icon.
2. Now share your referral code with your friends via any of the given options.
3. You and your friends will get ₹5 when they register.
4. You will also earn up to 10% of their earnings.
How to Earn Money on CashMonk App
There are two ways to earn cash on CashMonk. The first is by inviting your friends and the other is by downloading apps.
1. Open the app and select an offer.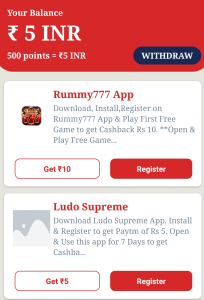 2. Now read the Offer Steps/Instructions:
3. Follow the given steps carefully to download the app and earn your money.
4. After you have read the steps click on Complete Offer.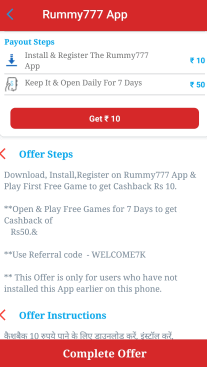 5. Follow the steps to get your reward.
How To Withdraw From CashMonk App
The only method to withdraw your earnings from cashmonk is through Paytm wallet.
1. Open the app and click Withdraw.
2. Enter the amount you want to redeem.
3. Enter your Paytm number and withdraw.
4. Minimum withdrawal amount is ₹50.
Is CashMonk App Legit?
Probably no.
The reason why I say that this app is not legit is because the app has a very poor rating of 3.2 stars and there are many reviews saying that they did not receive their money after withdrawing.
I have added some screenshots below:
As for whether this app actually pays or, I'll have to redeem myselft to verify that.
However, I did find someone's CashMonk payment proof on Telegram. But there is no way to know that the proof is genuine.