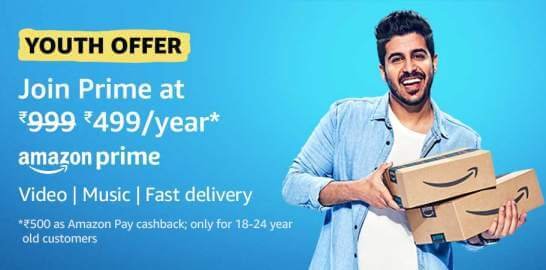 Do you want to get Prime Video/Amazon Prime subscription?
But the price is too high?
Don't worry in this post I'll show you how you can get Prime video subscription for a whole year at just half the price.
Conditions:
This offer is only valid for students.
Your age must be between 18-24 years.
Mobile device with Amazon app installed.
The offer is valid on 3 month and 1 year membership.
If you meet the criteria than you can take advantage of the Youth Offer on Amazon Prime. Just follow the steps to get 50% off on Amazon Prime membership.
How Do I get Amazon Prime Student Offer?
1. Install the Amazon app on your mobile.
2. Open the app and login/register.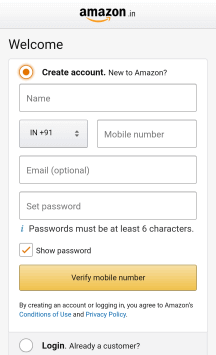 3. From the Menu select Try Prime.
4. Scroll down and click the banner shown in the image below.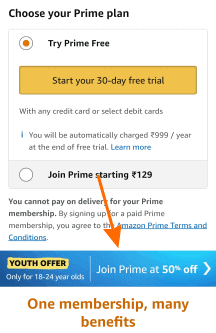 5. Select the 1 year plan as it gives the more value for the money.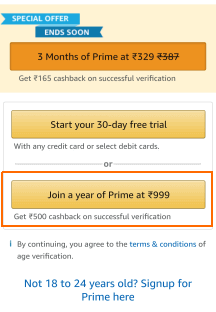 6. Pay the money by using any of the given methods.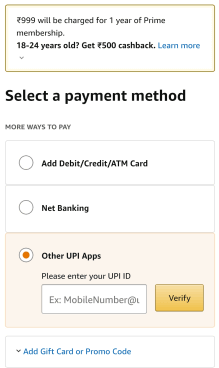 7. Now go to the Prime section and click Know more.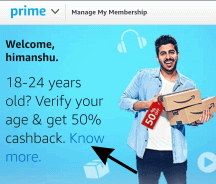 8. Upload a selfie and a photo of Aadhaar/PAN/Voter card.
9. You will get ₹500 cashback within 24 hours.

Amazon Prime membership is one of the must-haves if you own a device. Its video service(Prime Video) may not be as good as Netflix but it also costs considerably less. And other than Prime Video you also get Prime Music and better offers and faster deliveries on Amazon.in.
If you have any questions regarding this offer feel free to use the comment box below.