Want to invest money in gold?
Or
Are you looking to buy digital gold?
But don't know how?
Then you are at the right place. In this article, you will learn
How to invest in gold online?
Best apps to invest in /buy digital gold
What is Digital Gold?
Digital gold currency is a form of electronic money based on mass units of gold. It is a kind of representative money, like a US paper gold certificate at the time that these were exchangeable for gold on demand.

Wikipedia
Digital gold is issued by the state-owned MMTC (Metals and Minerals Trading Corporation of India), which is associated with PAMP (Produits Artistiques Métaux Précieux), Switzerland.
Why Invest in Digital Gold?
It is risk free.
When you buy digital gold you buy 24K 99.9% pure gold. You don't possess the gold physically, so you don't have to worry about putting it in a safe and secure place.
Digital gold can be sold anytime and safely and the current market price.
When you buy physical gold many charges are levied but with digital gold you only have to pay GST which is quite low.
Best Apps To Invest in Digital Gold
In this section of the post, I have listed the best sites and apps where you can buy digital gold safely.
1. Paytm
The Paytm app ranks first in our list of digital gold investment apps.
The Paytm app is the easiest way for anyone to invest in digital gold, since everyone(almost) already has it installed on their phone.
With Paytm gold you can buy 24K 99.99% pure gold starting with ₹1. You can buy and sell digital gold 24X7 or get it delivered.
On all purchases 3% GST is included.
You must get your KYC done before you buy gold through Paytm app.
2. Amazon Pay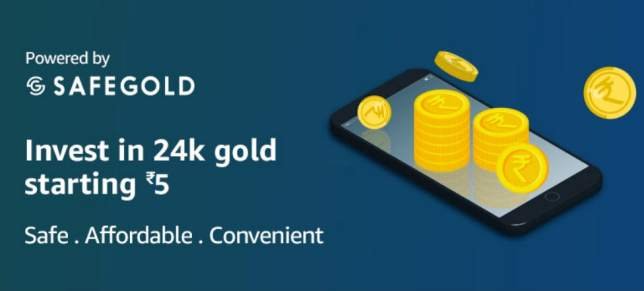 You can also buy gold through the Amazon app. You can buy and keep your digital gold secured in Amazon's Gold Vault.
Safegold is the partner-seller on Amazon that makes it possible for you to buy and sell digital gold.
The purity of gold offer Safegold is 24K 99.5%.
Like Paytm, Amazon app makes it possible to buy and sell gold at any time. And once you decide to sell your digital gold your cash would be credited to your bank account.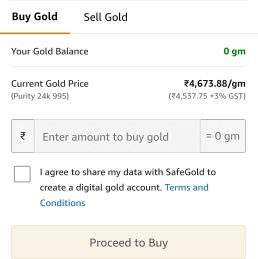 It is mandatory to verify your PAN before buying gold on Amazon app.'
3. Bajaj Finserv Markets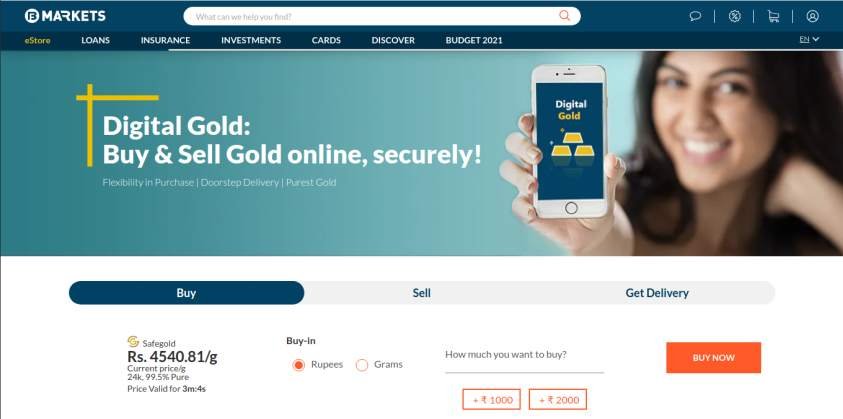 Bajaj Finserv Markets is one of the best apps to buy and sell digital gold. you just need to create your account and buy digital gold in INR or grams.
Like Amazon, Finserv Markets also partnered with Safegold to allow users to easily sell and buy digital gold. And the gold is 24K 99.5% pure.
And if you decide to get the Physical gold you can also redeem your digital gold and get it delivered.
4. IndiaGold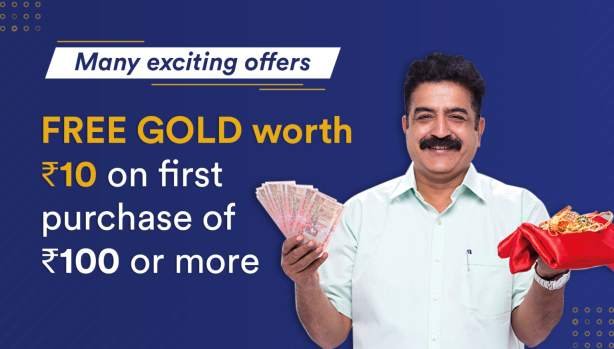 India Gold is one of the most popular apps to buy and invest in digital gold. you can buy digital gold for as low as ₹5and sell it anytime.
The best part about this app is that you don't have to verify your PAN card to start purchasing.
You can also refer your friends to IndiaGold and earn up ₹10,000 worth gold.
5. Safegold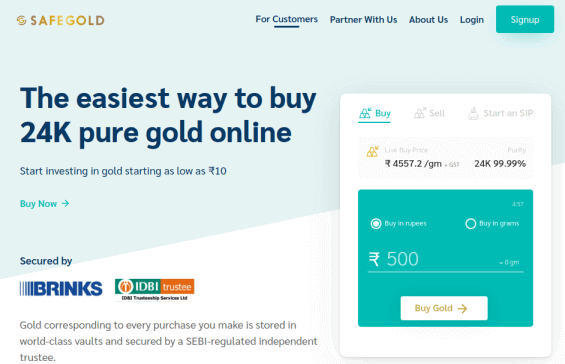 Up till now, I've listed two apps that have partnered with Safegold to be able to allow users to invest in gold.
But you can directly buy digital gold from Safegold as well.
SafeGold is one of the best platforms to buy gold online.
You can also transform your digital gold into gold coins and jewelry and get it delivered to your home.
6. PhonePe

PhonePe is another payment and UPI app that has partnered with SafeGold. So you can invest in gold with PhonePe app as well. The digital gold from SafeGold is 24K 99.5% pure.
But you can also buy 99.9% pure gold from MMTC-PAMP.

Final Words
Investing in gold is one of the best decisions you can take. But you have to invest and buy digital gold at the right time.
These apps will help you buy digital gold easily. But you have to make the decision about "When" these apps only take care of the "How."
If you know any other great app that helps in investing in Gold, please share with us.