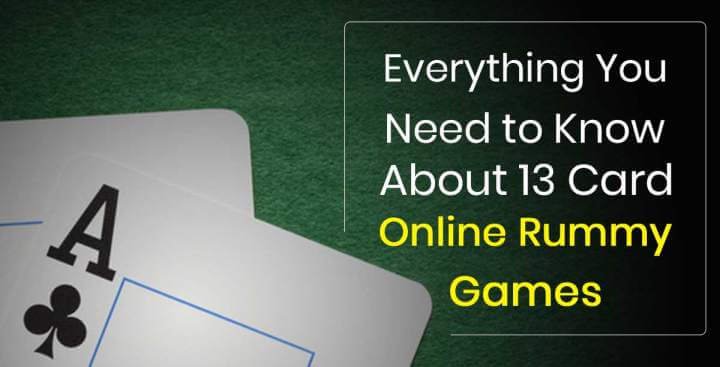 Rummy is a century old game and has travelled far and wide branching out to countless variations with time. Indian rummy is one of them and certainly the most popular variation in the country. In this blog, we shall talk about the 13 card Indian rummy game that is popular in online rummy sites today.
From game rules to some quick tips, we will equip you with the best possible knowledge of the game so that you can start playing as soon as you are done reading.
Also Read: Top 7 Apps to Play Rummy & Win Cash
13 Card Rummy Game Rules
Indian 13 card rummy games are typically played between 2-8 players on a single table with a 52 card deck out of which 13 cards are distributed to all players.
Game Objective
The foremost objective of a player is to form valid combinations using all 13 allotted cards first among all to win the game. The winner scores zero points and wins the sum of the prize pool.
13 Card Game Rules
In 13 card online rummy games, a player must form one pure sequence, one impure sequence and any valid set or sequence with the remaining cards. The most important rule players must remember is that a pure sequence is a must in order to make a valid rummy declaration. Without a pure sequence, you can't win a 13 card rummy game of online rummy.
13 Card Rummy Game Combinations
Sequence- A sequence is a combination of at least three or more cards of any suit in a serial manner. Eg: 5h,6c,7d
Pure Sequence- A pure sequence is a combination of at least three or more cards of the same suit in a serial manner. Eg: 7h,8h,9h
Set- A set is a combination of three or more cards of the same rank but different suit. Eg: 7h,7c,7s
13 Card Rummy Gameplay
All players must pick a card from the closed deck and discard another to the open deck to form valid combinations.
Joker is a printed card that can be used to substitute any missing card in a potential combination. Jokers can be in two forms- printed joker and a wild joker, a card that is randomly selected by the software to act as a joker in the current deal.
Once, you have arranged all cards in valid combinations, you can meld them all and declare your game.
Scoring System
When you play online rummy card games, the scoring system gets interesting. There is a consistent thrill to reach the top of the scoreboard with zero penalty points. As we mentioned earlier, the goal is to score minimum points in order to win in 13 card rummy games.
All numbered cards carry points equivalent to the face value of the cards. Eg: card numbered 7 carries 7 points and card numbered 10 carries 10 points.
All face cards A,K,Q,J are high value cards and carry 10 points each.
This is pretty much all you need to know to play online rummy games on any rummy site today. So, without much ado, let's take you to a portal where you can play 13 card online rummy games of three exciting variants, Points Rummy, Pool Rummy and Deals Rummy.
Enter RummyBaazi: Play Rummy Online 24*7 and Win Rewards
RummyBaazi, India's most Rewarding rummy site hosts online rummy games for free and real money wherein you can win multiple rewards and cash prizes. From amazing tournaments of extensive stakes to quick cash games that unlock Loyalty Rewards, playing 13 card rummy games online on RummyBaazi is a thrilling experience.
Here are some exciting tournaments that you can register and play on the portal this month.
| | | | |
| --- | --- | --- | --- |
| Tournament | Buy-in | Prize Pool | Deposit Code |
| 1 LAC Sunday Special | INR 500 | 1LAC | Get free ticket using code, "Sunlakhpati" |
| 25K Depositor's Freeroll | INR 200 | 25K | Get free ticket using code, "Daily25K" |
| Daily 10K RP tournament | 10 Reward Points | 10K | None |
| Free entry tournaments | Free | 3K | None |
Break a leg!