Years ago a reviewed the App Karma and Cash Karma apps. As the name suggest Screen Karma app is from the same developers.
However, it is not a standalone app more like an add-on for appKarma. To use the ScreenKarma app you need to have an appKarma account and the app installed on your device.
How to Earn Money with Screen Karma App:
It's quite simple.
Just open the app and enable the lockscreen.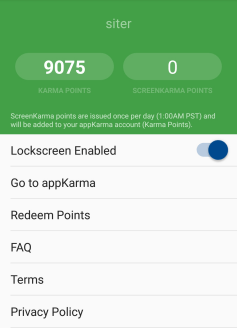 The Screen Karma app will show news and promotional content on your lock screen. You don't have to click on the content/news to earn points.
Just continue to use your smartphone as you normally do.
You can swipe left to read the news/view the sponsored content or swipe right to unlock your device.
ScreenKarma points are issued once per day at 1:00 PST. All your screenKarma points will be added to your appKarma account.
Rewards at screenKarma App:
Like a mentioned at the beginning of this review, screenKarma is a complement app for appKarma. So you can redeem your apps through appKarma.
There are many rewards that can be redeemed for your points. Some of them are:
PayPal
Steam
Amazon
iTunes
Flipkart
The rewards on appKarma are displayed according to the country you select.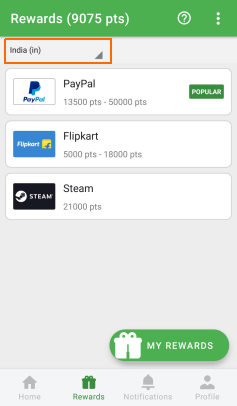 Should You Use It?
If you have an appKarma account and want to earn more points, then yeah. However, if you just want a lock screen app that will pay for just having it display promotion content, then SlideJoy is a better choice.