Pocket Money app referral code: M7vDoB. Pocket Money(earlier known as mPokkt) is an Android app where you can earn some pocket money by downloading apps, sharing your referral code & referring friends, completing offers and more. You will earn Rs. 10 when you enter the refer code given in this review. Pocket Money app is only available for Android devices and can be downloaded from the Google Play Store.
Pocket Money app is one of the few apps that provide a bunch of ways to earn Paytm cash and this review covers all of them.
Pocket Money also lets you grab discount coupons and offers. You'll find these offers in app and you'll also receive notifications of deals.
Pocket Money Referral Code
| | |
| --- | --- |
| Pocket Money Referral Code | M7vDoB |
| Sign up Bonus | ₹10 |
| Refer and Earn | ₹10/Refer Up to ₹160/Daily |
| Minimum Payout | ₹20 |
| Payment Method | Paytm cash |
How To Earn Rs. 10 Bonus on Sign up:
1. Download the app
2. Open it and swipe through the introduction.
3. Tap "Have a referral code?":
4. Enter this Pocket Money Referral code- M7vDoB and submit.
5. Now enter your mobile number and verify with OTP
6. You will get Rs. 10.
But this reward is pending. To claim Rs. 5 you need to complete an app install offer and to get the rest you need to earn at least Rs. 40.
You need to claim the referral rewards before they expire- within 15 days of registration.
Benefits of Pocket Money Referral Code?
When you enter the invite code given below you will earn Rs. 10. But the whole amount won't be credited to your account instantly. Like most apps, there are some conditions. You will get Rs. 5 as soon as you install and app after entering the code. To get the rest of the bonus you will need to do some tasks. Steps are given below to get the complete bonus.
Pocket Money Referral Code 2021
| Pocket Money Offer | Pocket Money Referral Code |
| --- | --- |
| Get ₹10 Bonus | M7vDoB |
| Download | App Link |
| Refer & Earn | ₹10 |
How to Download Pocket Money App:
Open Google Play Store
Search for "Pocket Money"
Install the app
Alternatively, you can click here to download the app
How to Earn with Pocket Money App:
View & Earn:
In this section, you can earn by visiting sites.
You will earn Rs. 0.50-0.10 per view.
To earn the reward, you need to follow these steps:
1. Go to View & Earn tab
2. Select a site
3. Hit 'Visit Now' and view the site at least for 5 seconds.
4. Your reward for viewing the content will be added to your Pocket Money wallet instantly.
Offers:
Here you can earn cash rewards for installing apps, registering on sites, opting-in for newsletters, shopping and more.
Once you select an offer, clear instructions that you need to follow to earn the reward will be displayed. Read the instructions carefully before you proceed.
Offers are available for a limited period of time. So make sure you look at the date till which the offer can be completed.
Earning games:
You can earn 'credits' for installing games.
1 Credit = Rs. 0.2.
Some games are plain install-and-earn while for others you need to follow further instructions. And like in the offers sections you will be provided with the steps you need to follow. Usually, games that require you to complete more tasks after installing pay more.
Tambola:
Much like the Tambola on Crownit, it is free to participate. But there are some differences.
For example, you can play the Pocket Money Tambola as many times you want and occasionally(during the play) you will be greeted with video ads.
To play Tambola you need to link your Facebook account.
Here are the instructions to play tambola:
Tambola Ticket
A typical 90 count Tambola ticket consists of 3 rows and 9 columns which make 27 spaces. Each row has a total of 5 numbers printed on it. A column can have 1, 2 or the maximum 3 numbers printed on it. The first column in the ticket will have numbers from 1-9, the second column will have 10-19, third column with 20-29 and so on until the 9th column which will be numbered in between 80-90.
Gameplay
The game begins with a ball draw. As the game progresses, the board is marked with each ball that is drawn. As it is a single player game, moderator will call 30 numbers in sequence & you can claim all reward within these numbers. The objective of the game is to mark all the numbers found in the ticket as called by the moderator. The player who first mark all the numbers in a winning pattern and calls a win is declared as the WINNER of that pattern after the moderator checks his ticket and verify it with numbers drawn.
If your claimed winning pattern is wrong, it will be called CLAIM INVALID and you cannot continue the game with the same ticket.
The game ends when 30 numbers are drawn, or when you claim the full house, whichever comes first.
Tambola Winning Patterns
In order to win in Tambola or Bingo, you need to match winning combinations within called 30 numbers. Some of the popular winning combinations in a Tambola game are given below:
Early Five: The ticket with first five number dabbed
Top Line: The ticket with all the numbers of the top row marked fastest.
Middle Line: The ticket with all the numbers of the middle row marked fastest.
Bottom Line: The ticket with the numbers of the bottom row marked fasted.
Four Corners: The ticket with all four corners marked first i.e. 1st and last numbers of top and bottom rows.
Full House: The ticket with all the 15 numbers marked first
Watch & Earn:
As the title suggests you will earn for watching videos, ads to be more precise.
You will earn Rs.0.04 per ad which is typically 15-30 seconds long.
Daily Tasks:
These are the tasks that you can complete (within the Pocket money app) to earn a "surprise reward".
Once you complete the given tasks the claim button will become available(and yellow) and you can claim your reward.
I earned this for completing the daily tasks:
How to Refer & Earn Pocket Money:
With the Pocket Money referral program, you and the user you refer can earn Rs. 10.
Your friends will get Rs. 10 instantly after they enter your referral code as a referral reward in Pending balance. To claim this reward they'll need to complete an app install offer (for Rs. 5) and to claim the rest earn Rs. 40 with the app.
So you and your referrals will earn Rs. 5 when they install an app through Pocket Money and Rs. 5 more when they earn Rs. 40.
You can earn up to ₹160 daily.
Payment Methods:
You can redeem your cash to Paytm wallet or recharge your phone.
The minimum amount needed to withdraw cash to Paytm is Rs. 20.
Is Pocket Money App Legit?
Yes. And withdrawal requests take less than 1 minute to be processed.
Below are my payment screenshots: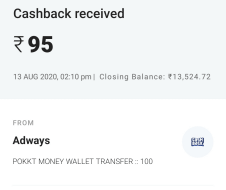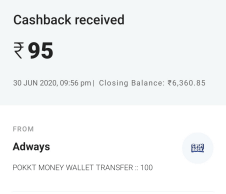 Read: