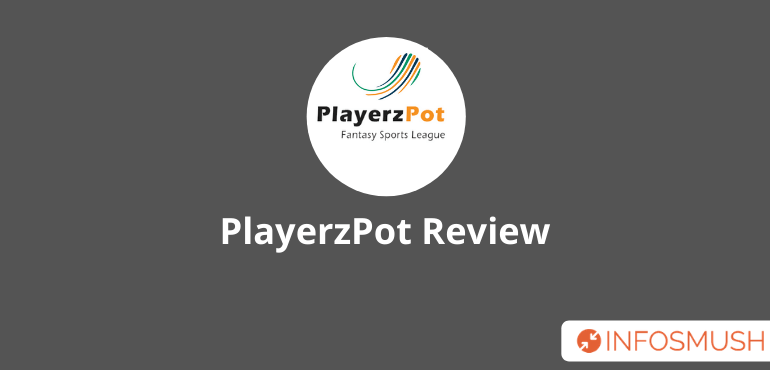 PlayerzPot is a fantasy sports platform where you can play sports like Cricket, Football, and Kabaddi.
Like all the fantasy sports apps, you will get a sign-up bonus when you register with a PlayerzPot referral code. Maybe that's what you came here for. But if you need a little insight read the complete review. I have already reviewed fantasy apps like Dream11, MyTeam11, HalaPlay and more. And if you love fantasy cricket here are the top 53 apps to play fantasy cricket in 2021.
PlayerzPot Referral Code 2023
Enter this PlayerzPot Referral Code: KHIM5938 for a cash bonus of Rs. 100. Also refer your friends and earn ₹50 + 2% of every contest they join which is 100% usable bonus(deposit balance) for lifetime.
| PlayerzPot Refer Code 2021 | Bonus Amount |
| --- | --- |
| KHIM5938 | Rs. 100 |
| Refer and Earn | ₹50 + 2% for life time(100% usable) |
| Minimum Withdrawal | ₹150 |
| Referral Code | KHIM5938 |
| Payment Methods | Bank and Paytm |
| KYC | Not required for Paytm withdrawals |
| PlayerzPot Apk Download | Click here |
You can play fantasy sports either on the PlayerzPot app or at playerzpot.com. The PlayerzPot app is available for both- Android and iOS devices. The iOS app is available on iTunes but if you're an Android user you need to download the app from the PlayerzPot's website.
Read:
Overview of PlayerzPot:
PlayerzPot is a fantasy sports platform. It was launched on 7 August 2015. The registered office of the company is at OFFICE NO. 603, PLOT NO. 17 & 18 PLATINUM TECHNO PARK, SECTOR 30A, VASHI, MUMBAI, Mumbai City, Maharashtra. On PlayerzPot you can win real cash by using your sports knowledge & skill and playing fantasy sports.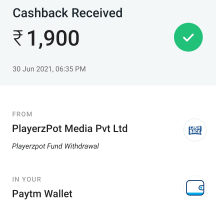 Like most fantasy sports apps PlayerzPot also offers a cash bonus for new users. You can get a cash bonus of Rs. 100 when you register with a PlayerzPot referral code. And by referring your friends you will earn 10% of the entry fee every time they join a paid league.
You can get up to Rs.100 cash bonus when you register with a PlayerzPot referral code. And by referring your friends you will earn 10% of the entry fee every time they join a paid league.
Playerzpot Features:
Instant paytm withdrawals
No KYC required for Paytm withdrawals
Refer and earn up to ₹500
Low withdrawal limit of just ₹150
Play games in addition to fantasy sports to earn money
How To Get PlayerzPot Referral Code Bonus:
1. Download the PlayerzPot app.
2. Open the app, enter your number & email id and Submit.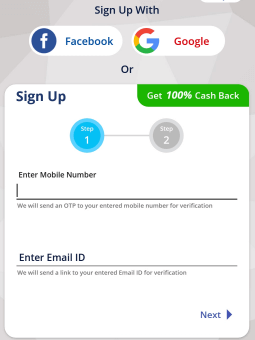 3. Enter your email ID and hit "Next"
4. Select your state and enter this referral code: KHIM5938 to get the joining bonus of Rs. 100 immediately.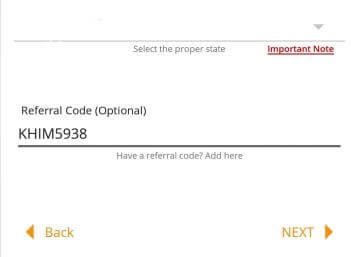 5. Create & confirm the password and hit Register.
6. Now you will get an OTP on the number you entered in step 2. Enter that OTP to complete the registration.
You will get Rs. 20. To get Rs. 10 more verify your email address. A verification email is sent when you complete the registration
5. Now you can get a 25% Cashback up to Rs 70 on your first deposit
Share Your PlayerzPot Referral Code:
During sign up enter this referral code to get Rs. 100: KHIM5938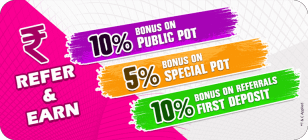 You can share your PlayerzPot referral code with your friends or on social media and earn Rs. 30 + 10% of their league joining amount. Every time your referral joins a league you will get 2% of the entry fee(100% Usable). In addition to this, you will get 10% bonus on their first deposit up to Rs. 100.
Referral amount will expire within 30 days. So make sure you make good use of it.
If your referral joins public pot with the bonus amount you will not receive the 10%.
You will only get 2% of the joining amount when your referral joins a pot using winnings or deposits. This amount is 100% usable.
YOU WILL RECEIVE REFERRAL BONUS FOR LIFETIME.
PlayerzPot Deposit Offers:

First Time Deposit Offers:
Offer is only valid for first-time deposit till 31st March 2020.
Cashback will be credited within 48 hours.
The bonus expires in 30 days.
no promo code required
| Deposit | Cash Bonus |
| --- | --- |
| ₹5555 | ₹5555 |
| ₹1111 | ₹777 |
| ₹555 | ₹333 |
| ₹333 | ₹166 |
| ₹111 | ₹44 |
Republic Day Offer:
– Unlimited Bonus Validity
| Add | Get |
| --- | --- |
| ₹25000 | ₹25000 |
| ₹10000 | ₹7000 |
| ₹5000 | ₹3000 |
– Offer is valid till 26th January 2020.
– No Promo code required.
How To Play Fantasy Cricket on PlayerzPot App:
On PlayerzPot you can play fantasy cricket, football, and kabaddi. But in this tutorial, we'll only talk about cricket.
Select a Match: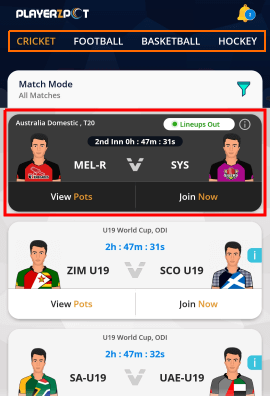 Open the app and you'll be taken to the Cricket tab. Here you'll see all the matches for which Pots (leagues) are open. To view all the available pots for a match tap "Available Pots". But if you want to create your fantasy team first tap anywhere on the match card or Join Now.
Create PlayerzPot Fantasy Cricket Team:
You can create your fantasy team by selecting players from both the teams. Your team should have 11 players. You have 1000 Gems. Each player costs you some amount of Gems usually 75 to 110. You need to create your team within this limit.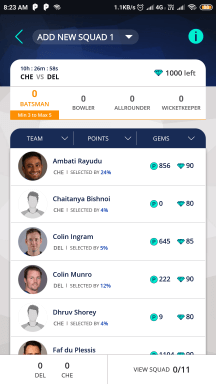 While you are selecting players, you can sort them by points, gems or team. To see how they have performed over the last few matches, tap on the image of the player.
PlayerzPot Team Rules:
| Player Type | Max | Min |
| --- | --- | --- |
| Batsmen | 5 | 3 |
| Bowlers | 5 | 3 |
| All Rounders | 3 | 1 |
| Wicket Keeper | 1 | 1 |
| Squad(players from one team) | 7 | 4 |
After you have created your team, select Captain and Vice-Captain. Captain gets 2x and Vice-Captain 1.5x points. The right captain and vice-captain could be the difference between winning and losing. So choose them wisely.
You can create and modify your team until the match starts.
Join a Pot:
Select a Pot that you want to join, pay the entry and join it.
PlayerzPot allows you to filter pots by Category- Grand Pots, 5 in 1 Out, Triple Threat, Duel, and Extras.
If you have cash bonus you can pay the entry fee using it.
PlayerzPot Fantasy Point System:
BATTING
SCORING TYPE
T20 / T10
One Day
Test
Per Runs
1 POINT
1 POINT
1 POINT
4's
2 POINT
1 POINT
1 POINT
6's
3 POINT
2 POINT
2 POINT
Duck
-3 POINT
-4 POINT
NA
50 Runs
5 POINT
4 POINT
3 POINT
100 Runs
10 POINT
8 POINT
6 POINT
Obstructing The Field
-5 POINT
-5 POINT
-5 POINT
STRIKE RATE:
80 & Below
-3 POINT
-2 POINT
NA
Between 81 to 130
0 POINT
0 POINT
NA
Above 131
3 POINT
2 POINT
N
BOWLING
Maiden
5 POINT
3 POINT
NA
Per Wickets
10 POINT
10 POINT
15 POINT
3 Wickets
10 POINT
10 POINT
15 POINT
5 Wickets
15 POINT
15 POINT
20 POINT
ECONOMY RATE
0 – 2.99
25
20
NA
3 – 4.99
20
15
NA
5 – 7.49
2 POINT
1 POINT
NA
7.50 – 9.99
0 POINT
0 POINT
NA
10 & Above
-1 POINT
-2 POINT
NA
FIELDING
Per Catch
5 POINT
5 POINT
5 POINT
Direct Run-Out
8 POINT
8 POINT
8 POINT
Thrower / Catcher
5 / 3 POINT
5 / 3 POINT
5 / 3 POINT
Stumping
5 POINT
5 POINT
5 POINT
BONUS POINTS
Above 125 Runs
20 POINT
NA
NA
Above 150 Runs
NA
20 POINT
NA
Above 200 Runs
NA
NA
20 POINT
7 or more Wickets
20 POINT
20 POINT
NA
10 Wickets or more
NA
NA
20 POINT
PlayerzPot Safe Play:
Like MyTeam11 PlayerzPot also has a Safe Play option. Matches available for safe play begin when the actual match starts. So if the match starts at 7 PM you will be able to create & edit teams and join contests till 7 PM.
Results are announced within 1 hour of match completion.
As per the Income Tax Act 1961, if your individual winnings for a single Pot is more than Rs.10,000, a tax of 30.9% will be deducted. The remaining amount (69.10%) will be credited to your winnings balance. For e.g., If you win Rs.1,00,000, a tax of Rs.30,900 will be deducted and your actual winnings are Rs.69,100.
PlayerzPot Ludo Games:
Now you can also win cash by playing games on this fantasy app. Currently, you can play games like Sheep Fight, Chess, Quiz, etc. And now they have also added Ludo and carrom. So PlayerzPot is turning into an all-rounder app, just like MPL.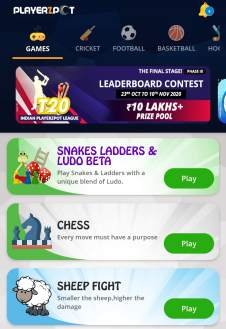 PlayerzPot Weekly Tasks:
Weekly Tasks are a new way to earn cash bonus on PlayerzPot. To earn cash bonus you need complete given daily tasks. Once you have completed the task you will be able to claim the reward.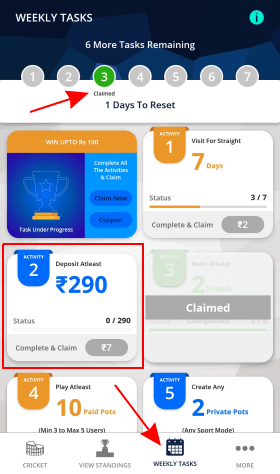 How to Withdraw From PlayerzPot App:
You can only withdraw your winnings, not Cash Bonus. But before you can withdraw you must verify your PAN Card and Bank account.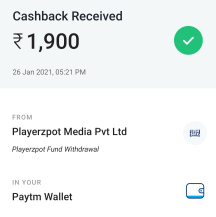 To complete your KYC with PlayerzPot:
head over to More tab and tap on Wallet.
Then tap the KYC button on the top right corner.
Now Fill up the form and attach the required document images. When you upload your documents make sure the details are clearly visible. If you fail to do so, you'll have to repeat the process.
Your account will be verified within 7 days.
You can withdraw your winnings through Paytm or request bank withdrawal and IMPS(Immediate Payment Service) withdrawal.
Steps To Withdraw To Paytm
Go to the More tab and click Wallet.
Click Withdraw.
Enter the amount you want to withdraw.
Select a payment method and tap Withdraw.
Confirm the request.
Q: Can we withdraw money from PlayerzPot without KYC?
A: Yes. To withdraw your winnings to Paytm wallet, NO KYC is required.
Read: Top 19 Paytm Withdrawal Fantasy Cricket Apps/Sites(2020)
The minimum amount that can be withdrawn from PlayerzPot is Rs. 150 and maximum, Rs. 10,000.
What is not allowed on PlayerzPot:
a. Creation of multiple accounts by one user,
b. Creation of multiple accounts by misusing a referral code/link to get cash bonus,
c. Any cash bonus withdrawal using unlawful means,
d. Submission of fake documents or uploading someone else's documents.

Playerzpot Customer Care Number
You can get your problems solved by contacting the support staff by any of the contact information provided below:
| | |
| --- | --- |
| PlayerzPot Support Email Address | helpdesk@playerzpotmedia.com |
| PlayerzPot Customer Care Number | +91 9136660701 |
| PlayerzPot Office Address | Office No 603, Platinum Techno Park, Plot No 17/18, Sector 30/A, Vashi, Navi Mumbai, Mumbai, Maharashtra 400703 |
Conclusion:
PlayerzPot is a great platform for fantasy lovers to win more money. You will also get a sign-up bonus so you don't have to deposit money to start playing.
The user interface of the PlayerzPot app is a bit cluttered. But they have been improving it regularly. So you can expect it to get better.
On PlayerzPot you won't find as many 'Pots' as you would on Dream11 or MyTeam11. But it still has a decent number of pots. It also means that there is less competition which makes it a bit easier to win.
What really stands out though is the Refer & Earn Program of playerzPot. You can share your invite code with your friends and you don't only get a cash bonus when they register but also when they join a paid pot, for life.
Sign up with this PlayerzPot referral code to sign up bonus: KHIM5938