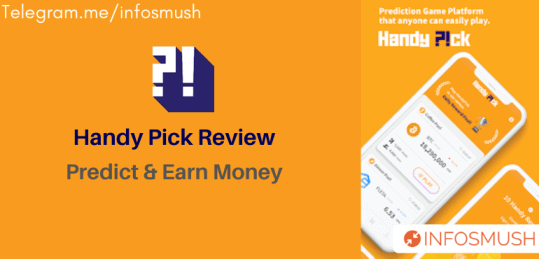 Handy Pick is a prediction game platform where you can predict whether the price of a virtual currency will be up or down and earn money. The app was released on December 21, 2020 and since then has been downloaded over 100k times from the Google Play Store.
The HandyPick app has an average rating of 3.5 stars which is not great. But on sign up you get a sign-up bonus of 130 Handy( worth ₹336) and can predict for free. So it wouldn't hurt to try this app.
Handy Pick is a prediction game but not like the ones we are used to. On HandyPick app you don't predict outcome of matches rather you predict the on cryptocurrency. It is pretty simple, you just need to bet and predict whether the price of a currency will go up or down.
Handy Pick Referral Code
Use Handy Pick Referral Code: 7QYZH3 and Get Extra 30 Handy on Sign up. And take your total to 130 Handy.
| | |
| --- | --- |
| App Name | Handy Pick |
| Referral Code | 7QYZH3 |
| Sign up Bonus | 130 Handy(₹336.63) |
| Refer and Earn | 30 Handy(₹65) |
| Minimum Withdrawal | 1000 Handy |
| Download Apk | Link |
Read: Feature Points Referral Code: Earn 50% of Referrals($50 Proof)
Handy Pick Apk Download
Use the link below to download the apk file of the HandyPick app.
How To Get ₹336 Sign up Bonus on Handy Pick App
1. Download the Handy Pick apk and install it.
2. Open the app and tap the Profile icon.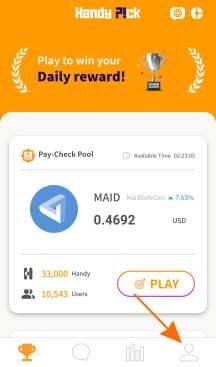 3. Tap Confirm.
4. Click Sign up or you can log in with Google or kakaoTalk.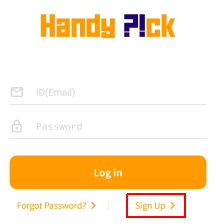 5. Agree with the terms and conditions and tap Next.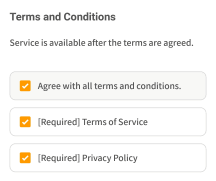 6. Enter your email Id and proceed.
7. Click the verification link sent to your email address and get 100 Handy. After clicking the link tap Complete.
8. Select your country and enter your mobile number.
9. Enter the 6 digit verification code to verify your mobile number.
10. Now set up your password. The length of your password must be more than or equal to 8 digits.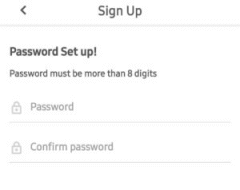 11. Now you need to set a Pin Code which will be used to secure your login and withdrawals.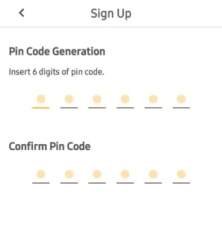 12. Input a username. Username needs to be between 2-7 digits.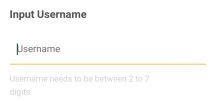 13. You will get 100 Handy immediately.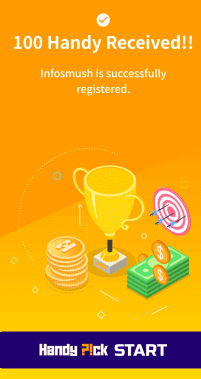 14. Enter the Handy Pick referral code: 7QYZH3 and get 30 Handy.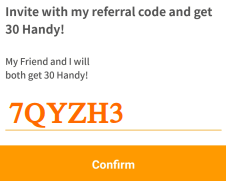 Now you have a total of 130 Handy.
Which is equal to 4.60 USD and when converted into INR we get ₹336.63.

Handy Pick Refer and Earn Details
For every friend that enters your referral code you both get 30 Handy Tokens.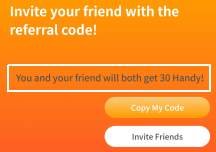 Go to the Profile tab.
Select Invite Friends option.
Share your referral code.
You will get 30 Handy when your friend registers and enters your referral code.
You can earn unlimited friends to earn unlimited free Handy tokens.
How To Play Prediction Game on Handy Pick
The makers of the Handy Pick app are selling it as a game, but it's not. It is just like how you would predict course of the prizes in apps like IQOption.
1. Open the app and tap Play.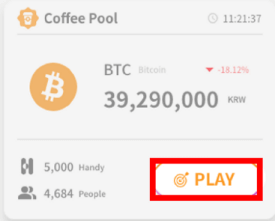 2. Answer all the question and tap submit.
Short means the prize will go down.
Long means the prize will go up.
3. In the daily game there is just one prediction game but there can be as many as 10 question in a pool.
4. After the results are out, tap the icon shown in the image below.
5. Now view your rankings and the amount that you won.
Handy Pick Refer Script
There is no refer and earn script for this app. And even if there was I wouldn't recommend it. As such tricks are never helpful and most likely will get your account banned.
And sometimes, apps can ban your device ID so you won't be able to create a nee account either. There's also a good chance that the script was created by a hacker with ill intention.
So beware of such tricks.
How To Withdraw From HandyPick
Handy is a Ethereum based virtual currency, so you would need an Ethereum wallet to withdraw your earnings.
1. Go to the Profile tab and tap Send.
2. Enter the amount of Handy you want to send and tap Next.
3. Enter your Pin code.
4. Now enter the address of your wallet.
Minimum withdrawal: 1000 Handy
Withdrawal fee: 305 Handy on each withdrawal.
Note:- The withdrawal fee depends on ETH gas fee and can vary.
Conclusion
Handy Pick is a great app to earn cryptocurrency for free by referring your friends and by predicting. As a new user you will get 100+ Handy on sign up. So if you can predict well, you woulnd never have to invest anything. You could earn unlimited digital currency without investment. But it all depends on how well you can predict and you will need a lot of luck.
If you do decide to use the app, enter my referral code to get extra Handy as bonus.
Handy Pick- Frequently Asked Questions
What is Handy Pick App?
It is an app from Korean developers that lets you win digital currency by predicting the change in their prices.
What is Handy?
Handy is the virtual currency of the HandyPick app which is based on Ethereum.
Can I Exchange Handy Tokens For Cash?
Yes, you can. You can exchange the tokens for KRW(Korean won) at coinone.co.kr.
Is It Possible to Swap Handy?
Yes, Handy Tokens can be swapped to Ethereum or any other Ethereum based cryptocurrency via Uniswap.
What Do I Need To Withdraw Handy Tokens?
You will need an Ethereum wallet to redeem handy tokens from Handy Pick app. From this app you need to copy your wallet address and paste it in the HandyPick app while withdrawing.