Eagle Network is a mining app that you can install on your Android device and start mining without a mining machine.
The Eagle Mining Network was launched on Feb 26, 2021 and was last updated on Mar 8, 2021. So it is quite new and saying anything about this app would be too soon. The rating of the app on Google Play Store is 4.7.
Eagle Network Referral Code
If you are looking for a referral code to register on Eagle Mining Network app, you can use this code:- Infosmush. You will get 10 Eagle as a joining bonus when you register with the given referral code(Infosmush) .
| | |
| --- | --- |
| App Name | Eagle Network |
| Eagle Network Referral Code | Infosmush |
| Bonus | 10 Eagles |
| Download | Link |
Read: Celsius Network Referral Code 2021: Get Free $50 in BTC
Register on Eagle Network and Get 10 Eagles
You can start the registration process with your email address or login with your Facebook account.
1. Enter your email address.
2. An email will be sent to your email address with a verification code. Enter this code and tap Verify & Proceed.
3. Enter your name, username and referral code:- Infosmush.
4. 10 Eagles will be added to your account.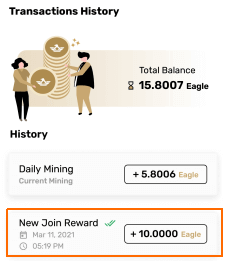 I wasn't able to get past the "enter your email address" and got an error that something went wrong. The reason could be that the app is not available for Indian users, or it could just be a server issue. Whatever may be the reason I will provide more information as soon as I can.
How To Mine on Eagle Network App
It's just open the app and tap the eagle icon to begin mining. It will begin a 24 hours mining session.
Mining Rate: Base Rate x 25% of base rate of active referral users.
You can also win free eagles with the Spinner.
Eagle Network Referral System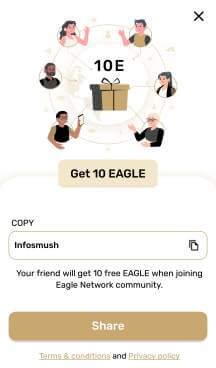 You and your friend will get 10 EAGLE when your friend registers with your referral code.
Your earning rate will be increased by: Base Rate*25% of the base rate of active referrals.
Eagle Network Review
It is impossible for me to review anything if I can't use it myself. So here's a video I found on YouTube: