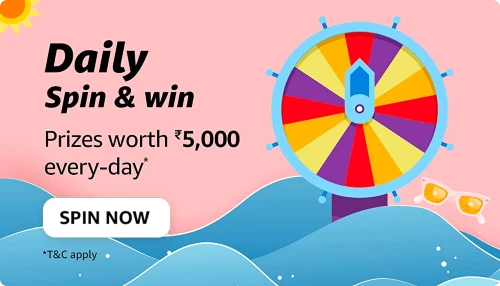 Amazon Spin and Win is a daily quiz that you can play every day on the Amazon app and win ₹5000 Amazon Pay Balance daily. The Spin and Win Quiz only has one question and the prize is determined when you spin the wheel. After that you just need to select the correct answer for the given question.
Also Read: Amazon Daily Quiz Answers
Amazon Spin and Win Answers Today December 7, 2023
Question:
Between 65 and 145 million years ago, which of these rivers flowed towards the Pacific Ocean, in the opposite direction it flows today
Nile
Amazon
Rhine
Brahmaputra
Answer: Amazon
How to Play Amazon Spin and Win
Open the Amazon app and search for Fun Zone.
Now scroll done until you see the "Daily Spin and Win" banner.
Click on the banner and the quiz will start.
Alternatively, click on this link to directly go to Amazon Daily Spin and Win Quiz page.
What is Amazon Spin and Win Quiz
It's a promotional activity conducted by Amazon India on their mobile app, where you can win prizes by spinning a virtual wheel. The quiz is open to all Amazon app users in India, so you can participate too!
To play the quiz, all you need to do is open the Amazon app on your mobile device, go to the FunZone section, and click on the Spin and Win quiz banner. You can then spin the virtual wheel to win prizes such as cashback, discounts, Amazon Pay balance, and other exciting offers.
The prizes offered in the quiz keep changing from week to week, so you can keep checking back to see what's new. And the best part is that the prizes you win are usually credited to your Amazon account within 24 hours of winning.
To increase your chances of winning, you can invite your friends to play the quiz and earn additional spins. You can also share the quiz on social media platforms to get extra spins.
Remember, the Amazon Spin and Win quiz is not a game of skill, and the winners are selected at random. So, anyone can win regardless of their knowledge or skill. It's just a fun and engaging way for Amazon to interact with its customers and promote its products and services.
So, go ahead and give the Amazon Spin and Win quiz a try. Who knows, you might just win something exciting!
Other Amazon Quiz Answers on Infosmush.com
Amazon Daily Spin and Win Quiz Winners
The Winners for the Amazon Daily Spin and Win Quiz are announced everyday at 12:00 AM. So if you have participated in the contest by answering the quiz correctly then you will get an email from Amazon notifying you regarding the prize you won and how to claim it.