McMoney is an Android app created by CM Telecom which is an international company into security products making.
The idea here is pretty simple. McMoney sends you messages to test the SMS reach of different telecom networks around the world.
These messages don't contain any meaningful text. They are just some random characters since they are just for test purposes.
McMoney Referral Code 2021: DQ5FTA7M
Enter McMoney app referral code: DQ5FTA7M and get bonus cash on sign up.
Read:
Getting Started with McMoney App:
The registration process is simple and takes less than 3 minutes. You will also get $0.04 as sign up bonus
1. First, download the McMoney app.
2. Open the app and read the introduction.
3. Accept the terms and conditions.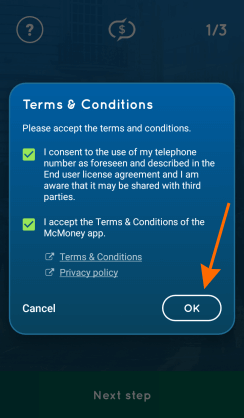 4. Select your country if it isn't automatically detected & enter your mobile number. Also enter this code: DQ5FTA7M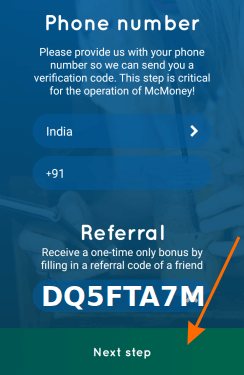 5. Verify your number by entering the received OTP.
6. Your account is created now. You'll get the sign-up bonus immediately.
How to Earn From McMoney App:
Well, you don't have to do anything.
Once, you have signed up, you will receive messages every once in a while. I usually get 1 message per day. You are not required to take any further action. Just keep the app installed. And occasionally check your earnings.
You will earn money for every text that you receive. The amount you receive for every text depends on the country you are in. Check out this forum to see how much users of different countries are being paid per text and their reviews.
Indian users will get $0.008 per message.
Like, I said at the beginning of this McMoney review these messages just contain random characters that don't mean anything(see the screenshots below):
message
You don't have to do anything after you receive the messages. You can even delete texts as soon as you get them.
To receive the messages your device needs to be connected to the internet.
If you don't want to receive messages for a while you can simply disable the app in the settings
McMoney Referral Program:
With the new referral program of the McMoney app, you can earn $0.05 for every referral.
Your referrals will get bonus too.
Both of you will get the bonus amount when your friend has received the Minimum messages.
How much is minimum?
That's what I would like to know as well.
Your referral earnings will be unlocked after you have earned $1 by receiving messages.
Rewards at McMoney App:
You can redeem your cash to PayPal.
You need a minimum of $1 to request a withdrawal.
Is McMoney Legit?
Yes, McMoney is a legit app. You can earn cash by just receiving messages and help telecom operators to test their reach.
Final Words:
The two things I liked most about the app:
You don't have to do anything. Just let the app send text messages and earn a few cents every time you get an SMS.
And the minimum amount needed to redeem is only $1. Which is good considering you won't be earning much with this app and number of messages they send is low too.
Since you'll only earn a few cents per message, it might take a month or more to reach the minimum payment threshold. But, you are not doing anything. Just keep the app installed. So, even if it takes a while to reach the payment threshold what you are getting is free and effortless money.
Summary:
| | |
| --- | --- |
| Reviewed item: | McMoney App |
| Legit or Scam: | Legit |
| Referral Code | DQ5FTA7M |
| Referral System: | No |
| Reviewer Rating | 4 out of 5 |
| Recommended: | Yes |
| Download link: | Download |