We all know that content with good SEO will have more chances to get ranked on google than that with no optimization.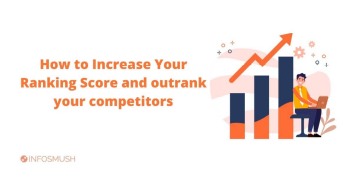 The SEO strategy plays the role of make or break in any website. That means if you are publishing optimized content on google, it will get ranked on SERP.
Giving a tough time to your competitors is challenging as the online business market is growing every day.
For a new person, it is just like a dream to get ranked on google as the already big bulls present there will never allow new competitors to come on top.
Technique to improve DA and outrank the competitors
Here we will provide you with some tips to enhance content SEO and increase your ranking scores to beat the competitors.
A new person to the online marketplace can make room and stand among the best competitors by following these tips.
1. Use a perfect keyword
SEO is the game of keywords. If you are using a keyword with high volume and less competition, you are definitely going to get ranked easily on SERP.
Keywords impact a lot in increasing the ranking score and getting more traffic on your page.
One important thing about keywords is that they can generate traffic on your page and bring the right kind of audience there who means that content.
You can take a suggestion from online tools like Ahrefs, Google keyword planner, and Ubersuggest that can give you the volume and density of that keyword.
A person who is old in the online market can rank a keyword even with high density. But it can be difficult for a new competitor.
To overcome this issue and get a score on google, users must do proper keyword research and add that text in the content that people mostly look for.
Some people use the technique of using keywords with wrong spellings. If visitors use incorrect spelling in the content, they will directly land on their page through that wrong word.
In this way, they don't lose the audience and take them to their own page using this tactic.
2. Improve the content quality
The quality of things matters everywhere, either at an online marketplace or at any shopping mall.
The first thing that the audience will look for is the quality of content. If you provide them with the text copied from other websites, they will instantly leave your page, increasing the bounce rate.
To avoid this factor, try to use unique content and improve its quality. Then, it will engage more audience on your page.
One more thing that can improve content quality is increasing its fluency by removing all grammatical errors.
It will make the article understandable and easy to read. So, you can have a text with high quality that can increase the audience and your ranking score on search engines.
Some people try writing lengthy articles and blogs, doesn't matter what they are writing in it.
This is a wrong method as you can't engage the audience unless you write something unique and interesting that can benefit them.
So, keep your words short by worthy that can clear the concepts of your reader quickly and force them to visit your page next time.
3. Add high-quality backlinks
Backlinking is the best technique to increase ranking scores on the page and give tough time to the competitors.
The quality of a website is determined based on quality backlinks inserted in the content.
A person must focus on this thing and add links to some good websites that will impact the SEO of the page and help in increasing page score.
Before giving backlinks to another website, one must check for domain authority. You can check da pa from online tools and make backlinks from authoritative websites.
Google ranks such websites that ease their users and provide them with the best quality results with no time wastage.
The other benefit that you can get by using backlinks in your blogs is having good relations with other websites.
If the link you added in your article is of a high authority website, it will positively impact your page.
Google will like this factor as a high authoritative page promotes your website so you can have good ranking scores that can help outrank your competitors.
4. Make the blog fully optimized
Optimization of content is an important aspect to get good rankings on google. Writing lengthy articles are not necessary unless you have not optimized it according to google policies.
Adjust the keywords properly in content that describe the central theme of the content. If you are using it unnecessarily everywhere in the text, the beauty of the whole blog will be ended.
So, add necessary keywords at crucial points where they are needed, and a user needs them.
The other best thing to make your blogs fully optimized is to add pictures related to content that can make it understandable for a reader.
Pictures make the content more engaging and can describe your words more prominently. Therefore, add such images in the content to help visitors understand your writing even without reading the text.
5. Improve loading time
The speed of the website is the crucial factor in getting more traffic on the page. It can increase or decrease traffic on the page.
If you publish the content with good quality and optimize it in the best way, but the speed of your website gets down while searching it, all your efforts will be in vain.
Public demand for quick response at online platforms. If you are not providing instant results, they will go to any other webpage as they have better options than you.
Also, this factor will increase the bounce rate of the page, which will negatively impact SEO and can de-rank you on SERP.
To escape such mishaps, the speed of your website must be faster than your competitors.
This will help you to lead the chart and get a high ranking score on search engines.
Final words
The online market is very vast, and it can be difficult for a new person to enter and compete with the professionals already sitting there.
To outrank those competitors and get an edge over them, you have to improve your ranking score on search engines; that is tricky.
You can do it by improving the SEO of your page and making the speed of your website fast so the user will not have to wait for getting the answers.
The tips mentioned above can help you get more traffic on your page and beat your competitors easily.