When the IPL begins everyone wants to try playing fantasy cricket because of how many ads they see. But not everyone wants to invest money to play fantasy cricket. For those, there are a number of fantasy apps with free giveaway contests.
But most fantasy apps will offer free entry contests during popular matches only. For example, for IPL matches you will find that almost all the popular fantasy apps have Giveaway contests ranging from ₹5000 to ₹1 lakh.
In this article, I am going to list the best fantasy cricket apps with free entry and real cash prizes.
Also Read: Best Fantasy Apps in India
Best Free Entry Fantasy Cricket Apps in India
| Free Entry Fantasy App | Giveaway Prize Pool |
| --- | --- |
| Vision11 | Up to ₹5 Lakh |
| Sportasy | ₹10000 |
| Gamezy | Up to ₹10 lakh |
| Dream11 | up to ₹1 crore |
| My11Circle | up to ₹10000 |
| PlayerzPot | ₹12345 |
| Howzat | Up to ₹5000 |
| Fantasy Akhada | up to ₹10 Lakh |
| Real11 | Up to ₹50000 |
| MyFab11 | Up to ₹10000 |
| Fan2Play | ₹10000 |
Top 10 Giveaway Fantasy Apps in India
1. Vision11(Best Free Entry Fantasy App)
Vision11 is the best fantasy app to join Giveaway leagues and win money. Vision11 offers the highest prizepool for free entry contests up to ₹5 lakh and the best part is that you can join with multiple teams to increase your chances of winning.
During the IPL there is one giveaway contest for every match as you can see in the image below. But it doesn't stop there, for the upcoming IND vs AUS series they have added a giveaway league of ₹1 lakh that you can join right now.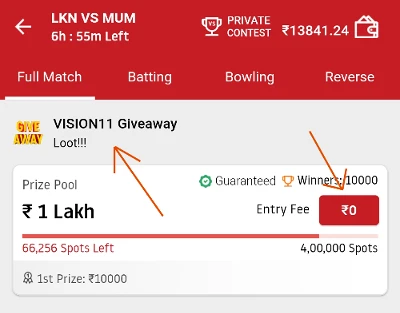 Vision11 is the best free entry fantasy app because you will find the highest number of giveaway contests in this app.
The signup bonus in Vision11 app is ₹500 which you can claim by using the Vision11 referral code.
📣 Join Infosmush Telegram to get updates about Free Leagues.
2. Sportasy
Sportasy is one of the best fantasy apps with free entry leagues and giveaway contests. You can join contests for various sports like cricket, football and kabaddi. When you sign up with Sportasy referral code you will get ₹500 bonus in your game wallet.
Similar to Vision11 Sportasy only offers Free Entry Fantasy Cricket contests for popular matches and for every IPL match.
You can also earn money by sharing your referral code with your friends.
Referral Code:- INF500.
3. Gamezy
Gamezy is a great fantasy app with lot's of other games to play as well. This fantasy app gives ₹1200 100% bonus on your first add cash. Not only that you can also get free entry for cricket matches. So play fantasy cricket on Gamezy and withdraw your money to your Paytm wallet or bank account.
Also Read: Best Paytm Withdrawal Fantasy Cricket Apps
4. Dream11
On the Dream11 app you can get a sign up bonus of up to ₹200 and referral bonus of ₹1000 per user that you invite. And since you can use the bonus up to ₹25 in every fixture, you can get effective free entry in every match in contests with entry fee up to ₹25 and win cash. Invite your friends and you will never run out of bonus.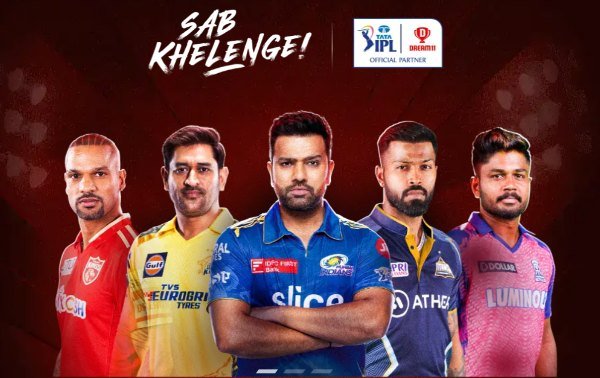 Referral Code: SLEOW1BC
5. My11Circle
My11Circle fantasy app offers up to 2 crore for the first rank winners in grand leagues and new users are eligible to get ₹1200 bonus on sign up. Not only that you can refer your friends and earn ₹551 for each friend.

So the effective Free Entry on My11Circle is easily more than ₹2000. You can download the app from the link below.
6. PlayerzPot
PlayerzPot is one of the most popular fantasy apps in India. On this Free entry fantasy app you can get up to ₹12345 cash back on your first deposit. So you will be able to double your money and get the free entry in fantasy cricket and rummy tournaments.
Referral Code: KHIM5938.
7. Howzat
Howzat is one of the best free-entry fantasy app because you will frequently get these giveaway leagues that anyone can join for free and win money. The prizepool of the free entry contests usually ranges from ₹3000 to ₹5000. But it is free.
You can refer and earn up to ₹650 from your friends which is 100% usable in contests.
8. Fantasy Akhada
The Free entry contests in the Fantasy Akhada app are not as frequent as Vision11. But for the big matches you can join free entry contests on this fantasy app as well. For the IPL 2023 qualifier 1 they offer a free contest with a prizepool of ₹10 lakh.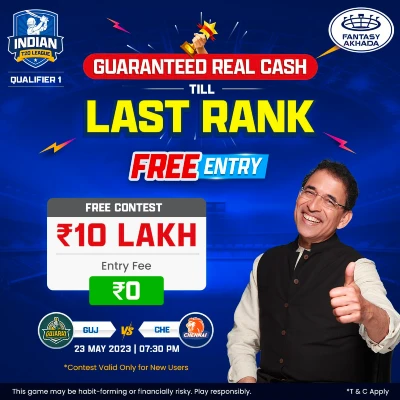 9. Real11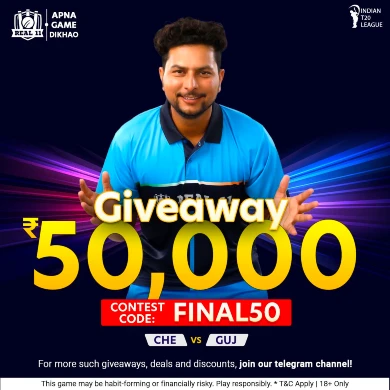 Real11 fantasy app also offers giveaway leagues. But the giveaway leagues are not public and to be aware of such leagues you will have to join their telegram channel for such updates.
Not only that your first match on Real11 is also free.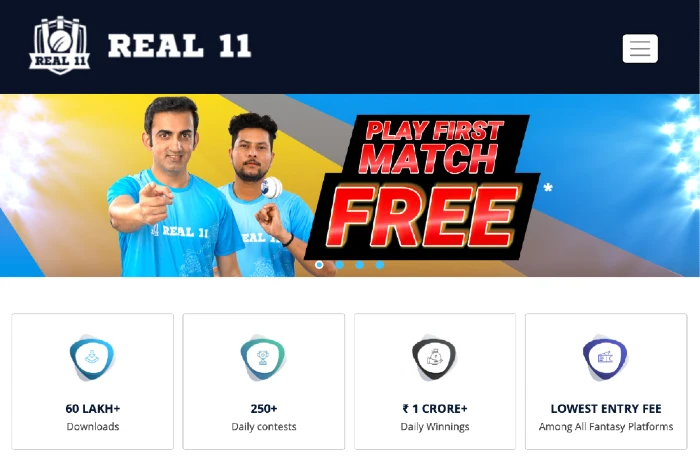 Referral Code: INF50
10. MyFab11
MyFab11 is a great fantasy app with free entry contests. The sign up bonus in the MyFab11 app is ₹100.
Referral Code: HAEAII32
11. Fan2Play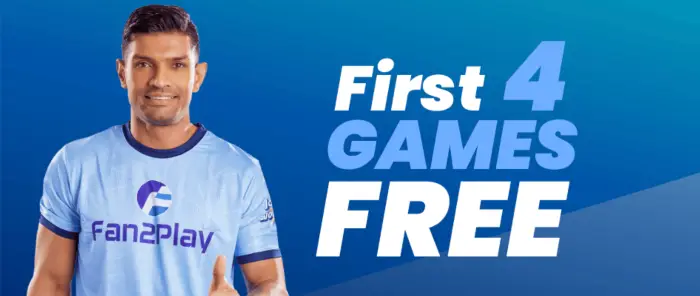 Fan2Play is a great free-entry fantasy cricket app because the sign-up bonus is ₹150 for new users and they consistently offer giveaway leagues. So if you are just starting your fantasy cricket journey then Fan2Play is a great app to start with. To get the complete bonus in Fan2Play fantasy app you must use the Fan2Play referral code.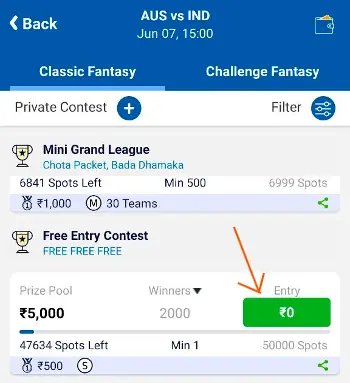 Refer and earn from this fantasy app also lets you earn unlimited commission from your referrals.
Currently you can participate in the Daily Leaderboard and win a brand new iPhone 13 everyday.
12. Twelfth Man
Twelfth Man fantasy cricket app is a low-competition fantasy app with mostly small leagues. So it is hard to come by giveaway leagues on this platform but sometimes they do host them. You can also get a bonus of ₹50 in sign up and the same amount for every user you invite.
This concludes our list of the Best Free Entry Fantasy Apps. The thing about giveaway contests is that you have to keep an eye out for such contests otherwise you will miss them. One way to always stay informed about Free Entry Fantasy Leagues is by joining the official telegram channel of Infosmush.