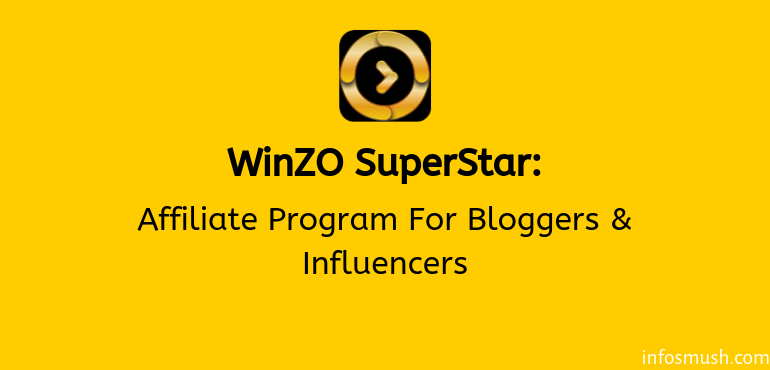 As a blogger or an influencer making money can be difficult. Especially selling stuff. People are reluctant to buy. But when it comes to referring users to a website or app that doesn't cost anything is much easier. It gets even easier when your viewers are benefiting as well.
Today, I'm sharing with you an app that you can become a partner of and start earning money by referring users.
The name of the app is WinZO Gold.
What is WinZO Gold?
WinZO Gold is an Android app for Indian users where they can earn money by playing games, fantasy sports and quizzes.
You can read more about WinZO Gold here.
What is WinZO SuperStar?
WinZO SuperStar is a Partnership program by WinZO Gold app. You have to register yourself as WinZO superstar to start earning. You will earn money by inviting users to the WinZO app. Below, I've explained everything that you need to know to get started.
How to Become WinZO SuperStar:
1. First, you need to download the WinZO Gold app from here
2. Now register using your mobile number.
3. Now head over to the Refer tab and switch to WinZO SuperStar
4. Tap Register As SuperStar: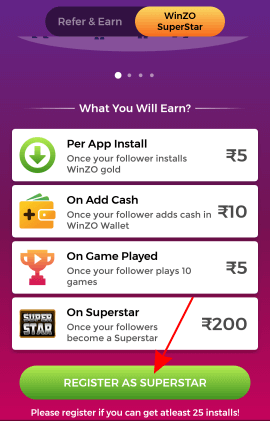 5. That's it. You are a WinZO SuperStar now.
6. You will be given a unique link that you can share with your readers/viewers/friends.
After you have registered as Superstar you won't earn from users who sign up using your referral code.
How Much Can You Earn?
₹5: For every user that installs WinZO Gold through your link
₹10: When your referred user deposits cash for the first time
₹5: Once he plays 10 games
₹200: When he becomes SuperStar
How to Earn with WinZO SuperStar:
That depends on you.
How can you get your viewers to install the app through your referral/affiliate link?
If you have a YouTube channel you can make a video about it. Or you can put it at the end or beginning of your video. If you make comedy video it doesn't make sense to dedicate a whole video to an app that lets users earn money.
If you have a lot of followers of social media you can share the link and tell your followers whey they should install and use WinZO Gold.
If you have a blog you can write a post. Explain to your readers what it is and how they can benefit from using the app.
You can also create an attractive banner and place it on your blog as an ad.
In the end, it's up to you.
How Can You Withdraw Your Earnings:
You can withdraw your earnings to straight to your Bank Account.
But before you can withdraw you need to refer more than 25 users. Your earnings will become redeemable as soon as you refer the 25th user.
WinZO Referral Program vs SuperStar:
You have a unique referral code
You can earn up to ₹40 per referral
User needs to enter your referral code during Registration
You will earn bonus cash(it cannot be redeemed)
There is no condition on the number of users you must refer to use cash-bonus
Suited for normal users
You are given a unique referral/affiliate link
You can earn up to ₹220 per referred user
User needs to download the app through your link
You will earn money that can be redeemed to your bank account
You need to refer at least 25 users to be able to withdraw your earnings
Suited for Bloggers, YouTubers, etc