Rummy Go- Rummy Go is one of the oldest rummy applications that are still up and running. The Rummy Go app was launched around the same time as Teen Patti Joy and Rummy Modern. This rummy application was launched in 2020 and the sign-up bonus that you will receive is ₹10. Clearly, it is much less as compared to many other rummy apps that I have reviewed here at Infosmush.com.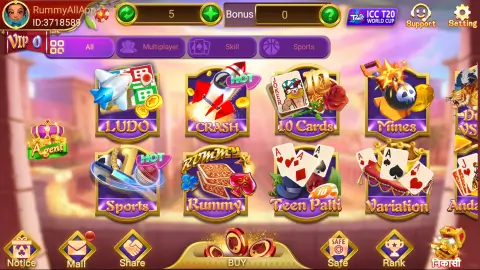 But in case you were looking for an old rummy application due to the unreliability of the new ones, you can try the Rummy Go APK. This rummy app has the same user interface as Rummy Joy and many other similar apps that you can find on Infosmush.com.
Also Try:
The refer and earn program lets you earn up to 30% of your friends' tax amount. This just means that the more your friends spend playing games the higher your commission will be. And the sweet part about all this is that you will be able to withdraw your referral commission.
Note: This App involves financial risk. Play responsibly and at your own risk.
Note: इस गेम में वित्तीय जोखिम का एक तत्व शामिल है और इसकी लत लग सकती है। कृपया जिम्मेदारी से और अपने स्वयं के जोखिम पर ही इसे खेलें । पैसे जोड़ने से बचें, नुकसान के जिम्मेदार आप खुद होंगे |
Rummy Go APK Download
| | |
| --- | --- |
| Rummy Go Bonus | ₹10 |
| Official Website | GetRummyApp.Com |
| Refer and earn | up to 30% of tax amount |
| Minimum withdraw | ₹100 |
| APK version | latest |
| Download Rummy Go | Click here |
How to Download Rummy Go?
The Rummy Go application is only available for Android and you will have to have an Android device if you want to use the Rummy Go app.
Just download the app and then you can start using it. Follow the steps given below and download the rummy apk file.
Click on the download button or the download link above.
Then, click on the download button on the download page.
The Rummy Go APK file will begin downloading immediately.
When was Rummy Go App Launched?
The Rummy Go app was launched back in 2020. The app has been around for more than 2 years and the bonus and other features of the app remains the same. The one thing that has changed is the number of games.
Other than that you will still get ₹10 bonus on sign up and can earn money by referring friends.
How to Sign up in Rummy Go APK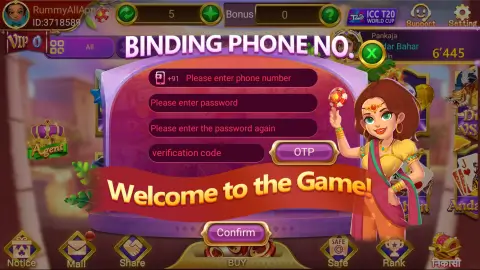 Download and install the app.
Start the application and you will be logged in as a guest automatically.
Now click on Bind button.
Fill up the sign up for and submit.
Your registration is complete.
Games in Rummy Go App
The games available in the Rummy Go app are Dragon vs Tiger, Rummy, Poker and more. The comman thing that all the games in app have in common is that all of them involve financial risk.
The popular games in Rummy Go are:
Rummy
Ludo
Poker
Dragon vs Tiger
Teen Patti
7 up down
Andar Bahar
Wingo
Teen Patti 20-20
Black Jack
Car Roulette
and more…
How to Update Rummy Go Application?
There is nothing special that you will need to do to update the app. The app is automatically kept up to date.
Whenever you open the app it will check for updates, and if an update is available, it will be downloaded automatically.
And don't worry the updates are mostly of less than 5 MB so it will be completed in no time.
How to Refer and Earn in Rummy Go?
You can earn unlimited real cash by referring your friends to Rummy Go. For every friend that downloads the app through your link, you will get ₹100 after they complete a deposit task of ₹1000.
Inluding that, you will get 60% commission from your friends.
You can refer any number of users to the app by sharing your referral code on Facebook, YouTube of other social media platforms.
Anyone who downloads the application through your link will become your referral and you will earn a commission for every game they play. The more they play the more commission you will earn.
Open the app and click Refer and Earn.
Share your referral link with your friends.
You and your friends will get a bonus when they register.
There is the provision of an extra weekly bonus and progress bonus as well.
Weekly Bonus in Rummy Go:
The weekly bonus in the rummy go app is an extension of the refer and earn program. This program will almost double your referral income by giving you an extra bonus every week.
How this works that depending on how much you earn in a week, your weekly bonus will be calculated and you will get it on Monday of the next week.
The weekly bonus comes into play only if your total weekly referral commission is more than ₹100.
Progress Bonus in Rummy Go:
The Progress Bonus was introduced almost 6 months ago. This reward is also for agents only.
You can get progress bonus if your last weeks weekly referral commission was more than prevous week.
Condition For Weekly Bonus and Progress Bonus
You already know that you have to earn more than a certain amount to get the above mentioned rewards but there is one more condition.
Condition: You need to be a VIP user of Rummy Go app.
Rummy Go VIP Program
The Rummy Go VIP program is a great way to get more bonus rewards in the app especially for Agents. Because by becoming a VIP member you will instantly unlock Weekly Bonus and Progress Bonus.
In addition to that, as your VIP level increases you will unlock higher daily, weekly and monthly bonuses as well.
To become a VIP you just have to recharge with ₹500.
The more you recharge the more rewards you will unlock.
How to Add Money in Rummy Go?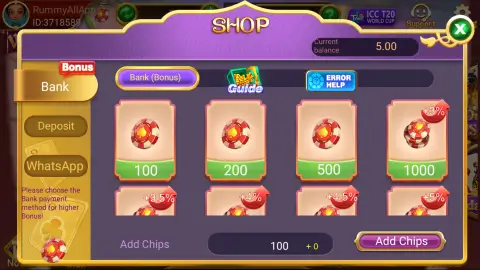 In the Rummy Go app you can add a minimum of ₹10-₹100 depending on the payment method you choose.
For bank payment method the minimum add cash amount is ₹100 and for UPI the it is ₹10.
Both the payment methods are fast, but the bank method is a little more hassle.
Open the app and click on Shop.
Now select the chip pack you want to buy after selecting the payment method.
Then click on Add Chips.
Now follow the steps and complete the payment.
How to Withdraw Money From Rummy Go?
You can withdraw money from the Rummy Go app in the same way as you did on Teen Patti Fun app. You can withdraw money to your bank account via IMPS or UPI transfer.
The chips in the app is withdrawable without having to save your personal details.
The minimum withdrawable amount in the app is ₹100.
Open the Rummy Go app and click on Withdraw.
Then select your preferred withdrawable method and enter the details.
Save the details and click on Submit.
Now enter the withdrawal amount and click on Withdraw button.
Your withdrawal amount will be credited to your bank account within 24 hours.
Is Rummy Go Apk Safe?
Yeah, according to Google Play Protect and Avast antivirus software. But the app updates are in app and you never know.
So you should only install Rummy Go or any other application if you are certain about its safety.
Rummy Go Customer Care Contact Details
Telegram: @RmmyGo01
Rummy Go App FAQs
How to get Rummy Go X bonus?
You just have to bind your mobile number and you can get the bonus amount of ₹10
How to download Rummy Go apk?
Go to the RummyAllApp.com website and from their you can download the RummyGo app. Just search for the app in the search box and you will see Rummy Go in the search results.
Is there a Rummy Go hack or mod apk?
No, and don't download from any source that claims such. They are most like lying and have some ulterior motives.
What is the minimum withdrawal amount?
₹100 is the minimum redemption amount.
Can I play dragon vs tiger in Rummy Go?
Yes, the dragon vs tiger game is available in the Rummy Go app.