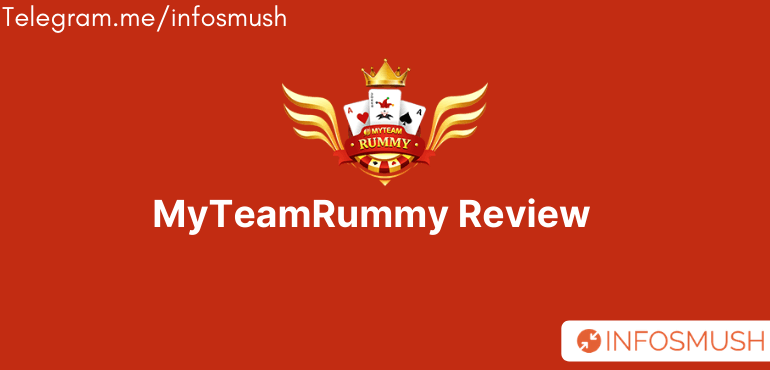 My Team Rummy is a rummy app from MyTeam11 Fantasy Sports Pvt. Ltd. This is the same company that owns MyTeam11(fantasy sports app). So one thing is for sure that MyTeamRummy is legit. It also one of the few rummy apps that support Paytm withdrawal.
Let's find out more about this app…
MyTeamRummy Apk Download:
To download the My Team Rummy app click the button below. Alternatively, you can also download it through the MyTeam11 app.
My Team Rummy Referral Code:
Enter MyTeamRummy Refer Code: M6Z0QR3PXY to get ₹100 on sign up. This offer is only applicable for new users.
| App Name | MyTeamRummy |
| --- | --- |
| Sign up Bonus | ₹100(on PAN Verification) |
| Refer and Earn | ₹1000 |
| Referral Code | M6Z0QR3PXY |
| Minimum Payout | ₹200 |
| Payment Methods | Paytm cash and bank transfer |
| Verdict | Legit |
How to Register on MyTeamRummy App:
1. Open the app and tap Sign up.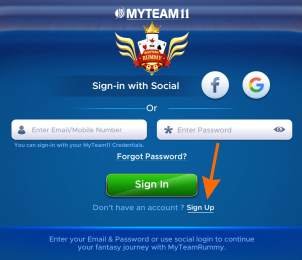 2. Enter your email address, password and tap I Have Referral Code.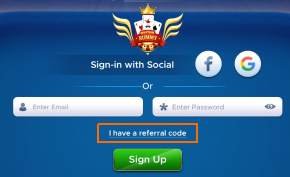 3. Now enter this My Team Rummy Referral Code: M6Z0QR3PXY and tap Sign up.

4. Now you need to complete your verification by verifying:
mobile number
email address
PAN card
5. Once all your details have been verified you will earn ₹100 bonus cash.
Note: If you are already registered at MyTeam11 you can use the same id and password to login on MyTeamRummy.
Read: Top 6 Apps to Play Rummy & Win Cash
How to refer and Earn ₹1000:
The "Refer and Earn" program of MyTeamRummy lets you earn ₹1000 bonus cash per user that you invite.
1. Open the app and tap Refer & Earn.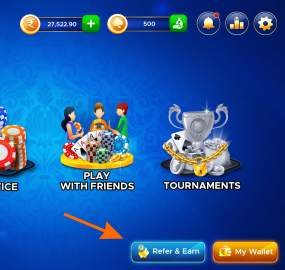 2. Now invite your friends via facebook, whatsapp, etc.
3. Your friend needs to enter your code during sign up.
4. You and your friend both will get the cash bonuses only after your friend verifies his account.
5. On successful verification you will earn ₹1000 and your friend will get ₹100.
Variants of Rummy on MyTeamRummy:
MyTeamRummy app offers 4 variants of rummy:

Points Rummy: Play for points with an already defined rupee value. Play to make a declaration with a '0' point score, and the player who makes a valid declaration win the game.
Pool Rummy: The players in pool rummy are required to pay a fix entry fee amount which makes up to the total winning prize money. Any player in the game is eliminated as it reaches maximum points pool, i.e. 101 or 201.
Deals Rummy: In Deals Rummy, the players on the table are given an equal number of chips to play a pre-defined number of rounds. At the end of every round, the player making a valid declaration gets all the chips, and the player with maximum chips after the pre-defined number of rounds is over becomes the winner.
Raise Rummy: The Raise Rummy is played quite similarly to Points Rummy, just the point value increases after regular intervals. The point value is raised till a pre-decided value with the next value shown beside current value above the table.
You can also play Rummy tournaments. But tournaments are unlocked only after you reach level 50.
How to Withdraw Money:
MyTeaamRummy app lets you withdraw your winnings to Paytm wallet or Bank account. Follow the steps below to redeem your earnings.
1. Open the app and tap My Wallet.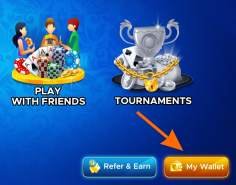 2. Tap Withdraw Money.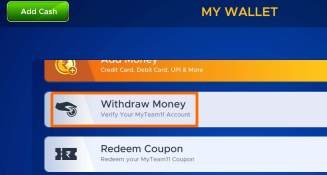 3. Now enter the amount you want to withdraw and select a withdrawal method.