Ludo Supreme Gold or simply Ludo Gold is one of the best ludo earning app that has been launched by Zupee where you can win Paytm cash by playing ludo. The free version of the app was released on the Google Play Store on 22 April 2020. This app comes from the company that developed Zupee Gold. So there is no need to worry about the legitimacy of the app.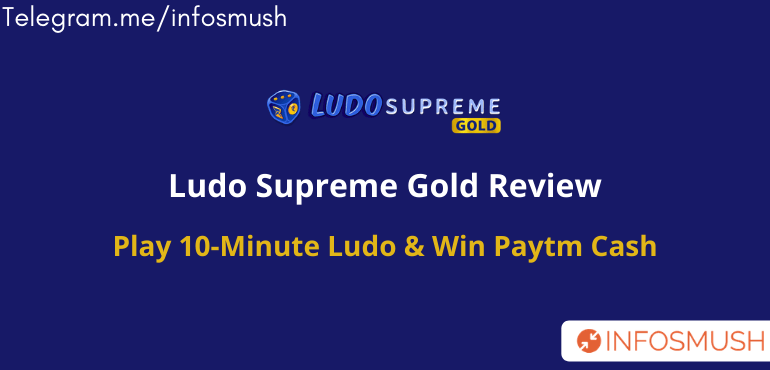 Ludo Supreme Apk Download:
Click the link below to download the Ludo Supreme Gold Apk.
Ludo Supreme Gold Referral Code:
Enter Ludo Gold Referral Code (UMT9RIN) to get extra Rs. 10 bonus on sign up. Also, you can share your Ludo Supreme Gold Referral Code with your friends and earn ₹20.
UMT9RIN
| | |
| --- | --- |
| App Name | Ludo Supreme Gold |
| Sign up Bonus | ₹5 |
| Referral Code Bonus | ₹10 |
| Ludo Gold by Zupee Referral Code | UMT9RIN |
| Payment Methods | Paytm cash |
| Minimum Payout | ₹1 |
| Verified | No. But it is owned by the same company as Zupee. |
How to Get ₹15 Bonus on Ludo Supreme Gold App
1. Download the apk file and install it.
2. Open the app and login with Google.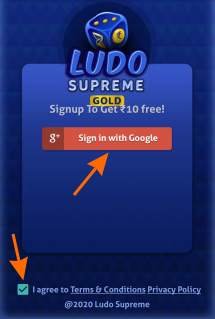 3. Now you will see the Game Rules. Read the rules carefully and tap the > for the next rules.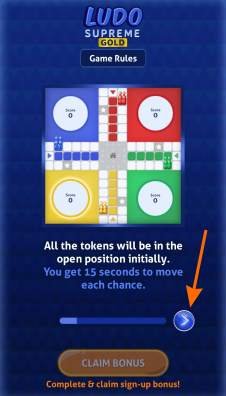 4. Once you have read all the rules the Claim Bonus button will become clickable. Tap the button to claim ₹5 bonus cash.
5. Now tap the Profile icon.
6. Then below Redeem Referral Code enter the Ludo Supreme Gold Referral Code:- UMT9RIN.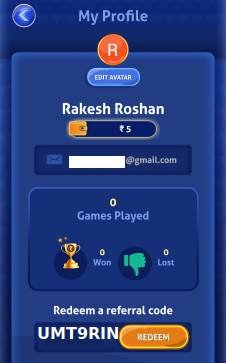 7. You will get ₹10 instantly.
How to Refer & Earn ₹20 Paytm Cash:
1. Open the app and tap the Refer and Earn banner.
2. Share your Ludo Gold referral code with your friends and family.
3. You will earn ₹5 in winnings when they make their first deposit using WIN5 coupon code.
4. ₹5 more will be added to your wallet when they play 5 paid games and ₹10 on their next 5 paid games.
5. Your friends will get extra ₹10 when they redeem your code.
Note: This new Refer and earn system ends on September, 30 2020.
Ludo Supreme Gold Game Rules:
Ludo Supreme Gold is a bit different from other ludo games that I've reviewed on Infosmush.com. That's why listing these rules:
All the Tokens will be in the open position initially.
If someone's token gets cut, it returns to its start position.
Player with the highest score wins.
1 box moved = 1 score.
When a token reaches home then score for that token is doubled.
2nd, 3rd and 4th position will be decided on the basis of their respective scores.
Player will get 15 seconds to move.
3 skips will put you out of the game.
Two tokens of a player at the same box cannot be cut.
Each player gets an equal number of moves and an extra move to complete the game in case the time expires.
Game ends when the 10-minute timer runs out.
You get an extra chance on:

Getting 6 on the dice.
Token reaching home.
Eliminating opponents token.
How to Withdraw Winnings From Ludo Gold:
1. Open the app and go to the My Wallet section.
2. Tap Withdraw.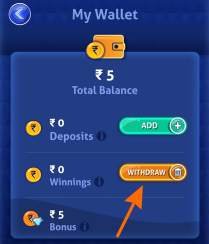 3. Enter your Paytm number and submit.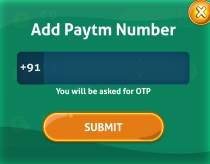 4. Enter OTP.
5. Now enter the amount you want to withdraw and tap Withdraw Money.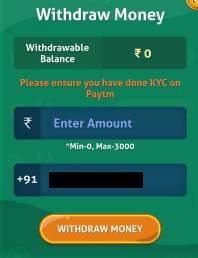 You can withdraw minimum ₹1 and maximum ₹3000.
Ludo Supreme Gold Customer Care Number:
They don't have a customer care number but you can use this email address to contact them: : support@ludosupreme.com.
Final Words:
Ludo Supreme Gold is a great app if you want to win Paytm cash by playing ludo and don't want to spend a lot of time. On Ludo Gold each game lasts for just 10 minutes to it saves a lot of time.
Similar Apps: