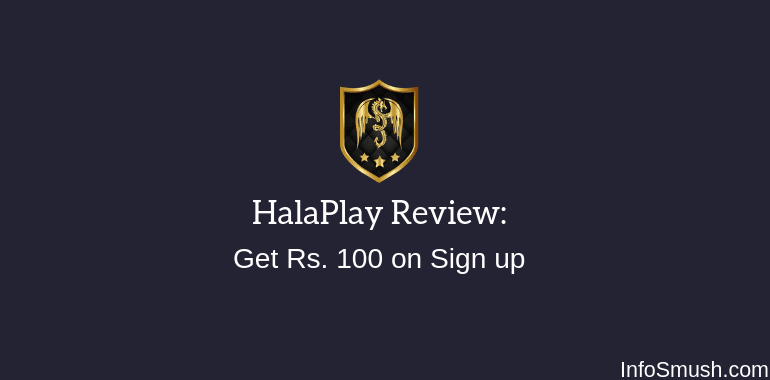 HalaPlay is a fantasy platform where you can put your sports knowledge to test and win real cash. And yes you will get an extra referral cash bonus of Rs. 50(total Rs. 100) when you sign-up with a referral code. If you sign up without a referral code you will get just Rs. 50 sign up bonus.
On Halaplay you can play fantasy sports like Cricket, Kabaddi, and Football.
If you play fantasy sports on Dream11 you know that they recently extended closing time for the contests. Now you can edit & create teams and join contests till the match starts so that you only select the players that are playing. But did you know that HalaPlay has always had that?
In fact, HalaPlay was the one to introduce that concept.
HalaPlay Pro Referral Code:
HalaPlay Referral Code is- uIFcYlPHl, enter it on sign up to get ₹100 bonus. This bonus is 100% usable. Also share your refer code to earn ₹50 per referral.
| HalaPlay Referral Code 2021 | Details |
| --- | --- |
| App Name | HalaPlay |
| Sign up Bonus | ₹100 |
| Referral Code | uIFcYlPHl |
| Bonus Usage | 100% |
| Refer and Earn | ₹50 |
| Minimum Payout | ₹300 |
| Payment Methods | Bank transfer |
Read: MyTeam11 Referral Code: M6Z0QR3PXY | Get Rs. 100 on Sign up[Proof]
How to Get HalaPlay Referral Code Bonus:
1. Head over to HalaPlay.com and download the HalaPlay app or you can register on the website
2.You can continue with Google or Facebook to or sign up the conventional way.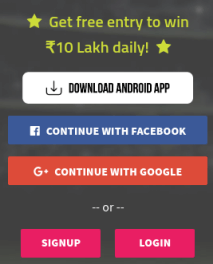 3. Fill up the form that appears on the next screen and enter this HalaPlay referral code: uIFcYlPHl to get an extra cash bonus of Rs. 50
4. Verify your email address
You can use this referral cash bonus to join leagues and win cash.
Another thing that I liked about HalaPlay is that you can use 100% of your (referral & sign up)cash bonus to join leagues with "_B" symbol.
There are 3 types of bonus leagues- 1B, 2B, and 4B. It means that you can use cash-bonus to pay 100% of the joining fee for 1, 2, 4 entries respectively.
Cash bonus: Cash that you earn when 1. you enter a referral code during sign-up and for registration 2. when others enter your referral code and join a paid league. 3. Bonus that you get during offers and discounts.
Note: HalaPlay referral program only works on Android and iOS apps. To get the extra signup bonus of ₹50 you need to register and enter the referral code in the HalaPlay app, not the website. Later you can use the credentials to login on a PC.
Also Read:
What is HalaPlay VIP Pass?
In a new update HalaPlay introduced VIP Passes. With a VIP Pass you will have the following benefits:
5% Platform Fee: VIP Pass enables you to play ion Halaplay with just 5% platform fee in non-confirmed leagues.
Download HalaPlay apk and Register:
Although you can register on the HalaPlay.com, it's easier to do in on the app. And you will only get the referral bonus on the app.
Head over to HalaPlay.com
Hit the Mobile Apps button, located at the top.
If you are browsing on your mobile hit the Download button, else enter your email address to get the apk/app link.
Now open the app and fill up the short form to register.
When asked enter this referral code: uIFcYlPHl for Rs. 50 cash bonus
The next step is to verify your mobile number and email address. For each verification, you will get Rs. 25. So now your total cash bonus is Rs. 100.
If you are using iOS you can download the HalaPlay app from the app store.
HalaPlay Refer & Earn System:
You can earn Rs.50 cash bonus for every user that enters your referral code during sign-up.
The referral program is only for the app. So make sure your referred users register on the HalaPlay app which is available for Android and iOS. The HalaPlay apk can be downloaded from their website and Apple device users can download the app from the Apple app store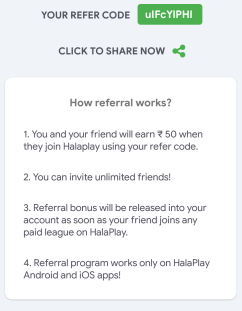 Your friends will get Rs. 100 right after they enter your invite code. But you will get the bonus when they join a paid league.
One of the things that I liked about HalaPlay is that you can pay 100% of the entry fees of contests/leagues using your cash bonus. There are no restrictions. You can join as many leagues as you want and spend as much of the bonus as you feel like.
How To Create Your HalaPlay Team:
1., First, you need to select a match from the Match Center(website) Arena(App). You can also see a timer under each match that tells you how much time you have before the leagues are closed.
2. Go to My Teams tab, hit the Create Team button.
3. You have a salary cap of 100 credits. You need to select 11 players without exceeding this limit. While creating your team you need to keep in mind the format of the match, pitch, conditions and of course, players.
Tip: If you are creating your team after the line-ups are out there will be a green dot next to every player in the playing-11. HalaPlay also notifies you when Line ups are out.
4. Once you have created your team hit SAVE and select the captain of your team. The points of the player selected as captain will be doubled. There is no vice-captain.
You can create multiple teams, up to 4. You can copy the created team to create other teams or start from scratch.
Now you are ready to join some leagues. But here's something that you might want to do first:
How to Get Lineup Notifications From HalaPlay:
If you have the HalaPlay app installed you should be getting push-notifications whenever Lineups are out. But on the website you have to enable the notifications manually.
1. Head over to the HalaPlay website
2. Go to Site Settings:
3. Set the Notifications settings to Allow:

Allowing HalaPlay to send you a notification when lineups are made public will help you select players that are playing. Push notifications also work as a reminder so that you don't miss out on the fun.
How to Join HalaPlay Fantasy Leagues:
Before joining a league, let's get you familiar with the types of leagues available on Halaplay:
Normal:
Well, these leagues are normal. Higher points = bigger prize. You need to create your team such that you can rank higher. The higher your team will rank the more cash you'll win. On HalaPlay all leagues are "that" except Reverse and H2H.
H2H:
Head-to-Head leagues are those leagues that require two participants and there's one winner. The 2x leagues (Top 40% of the participant will get 2 times their entry fees) also fall in this category.
There is less pressure while creating your team for these leagues. Because you don't have to think out of the box to win. In fact, what matters is the team of your opponent.
Reverse:
Reverse fantasy is the opposite of normal fantasy. In reverse fantasy, you have to select players who you think will score the minimum points. To be honest, HalaPlay is the only fantasy app where I've seen this. If you know any other apps that have Reverse leagues, let me know via the comment box below.
But be careful, don't select players that not part of the playing 11. Since everything is reverse, if a player does not play, then the highest point scored (by a player) in the match will be awarded to that player.
Captain in reverse fantasy gets their points halved. So if your captain scores 50 points, it will be reduced to 25.
You can join any league that you want. But if you only have Cash Bonus in your HalaPlay wallet then you can only join leagues that have 1B, 2B or 4B symbol.
1B: You can join with 1 team using 100% of the cash bonus.
2B: You can join with 2 teams using 100% of the cash bonus.
4B: You can join with 4 teams using 100% of the cash bonus.
Free Roll:
HalaPlay hosts 1 league that the players can join for free and win cash prizes. But these leagues(with free entry)are only offered for popular matches like the matches of IPL.
How to Create your Own League:
Like most fantasy apps HalaPlay also lets you create your own leagues. There's more; you can make the league Public or Private.
Public: If you make your contest public then it will be available to all the HalaPlay users. Anyone can join.
Private: Private contests can only be joined through the invite code. After you create your custom league an invite code will be generated that you can share with the ones you want to join your contest.
1.Select the match for which you want to create league.
2. Tap the + icon at the top-right corner:

3. Now select league type, Opponent, League Format, Entry Fee, League size extra: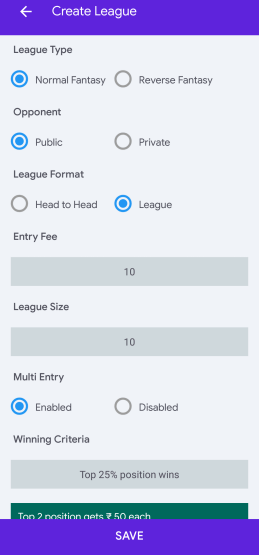 How to Withdraw From HalaPlay:
Before you can withdraw your winnings you need to verify your email address, PAN and bank account.
After verification tap on the More tab and then Withdraw. now enter the amount you want withdraw from HalaPlay to your Bank account.
Minimum withdrawal: Rs. 300.
HalaPlay Promo Codes:
Below are the promo codes that you can use while depositing money into your wallet to get additional cash bonus:
WELCOME
Use Coupon Code WELCOME and get 100% bonus on your first deposit when you deposit between Rs. 10 to Rs. 50.
3KOFFER
Deposit exact Rs. 12,000 and get 25% Bonus. This coupon can only be used once.
450OFFER
Deposit exact Rs. 1,500 and get 30% cash bonus. Can be used once.
IND1930
Deposit between Rs. 1 to Rs. 99 and get 20% bonus. You can use this coupon 5 times.
IND1920
Get 15% bonus when you deposit Rs. 1,000 to Rs. 9,000. You can use this coupon 5 times.

IND1915
Get 10% bonus when you deposit between Rs.10,000 to Rs.100,000. You can use this coupon 5 times.
IND1910
Get 10% bonus on your deposit of Rs.10,000-Rs.100,00. This code can be used 5 times.
SHARK
Get 5% bonus when you deposit between Rs. 10,000 to Rs.500,000.
BANG25:
Get 100% bonus. For Rs.25.
BANG50:
50% bonus when you deposit Rs.100.
BANG300:
30% Bonus when you deposit Rs. 1,000
BANG200:
20% Bonus when you deposit Rs. 10,000
Tips for HalaPlay Fantasy Cricket Team:
As you might already be aware that every fantasy sports apps/platforms have a different fantasy point system. While it's correct that your team will score higher if the players perform well. But for different platforms, you might have to create different teams. Even if the difference is of just one player.
Let's understand this with the example of MyTeam11 and Dream11. For a T20 match, your team will earn 0.5 points for every run scored. While on MyTeam11 your team will get 1 point per run scored. And on MyTeam11 half-century bonus is 4 points and the century bonus is 8 points.
For a wicket taken your player will get 10 points on Dream11 and 14 points on MyTeam11.
So on Dream11 20 runs = 1 wicket.
And on MyTeam11 14 runs = 1 wicket.
As you can see on MyTeam11 it is better to select more batsmen as compared to Dream11.
So the question now is: What should your HalaPlay team look like?
Before we get into that, take a look at the HalaPlay T20 fantasy point system
The fantasy point system of HalaPlay is basically 2x the FPS of Dream11(with some minor differences).
So your HalaPlay team should be similar to your Dream11 team.
But sometimes a player costs less or more in HalaPlay. That's when you need to decide whether you are gonna leave a high credit player for good players or your gonna select a player that costs about 10 credits and select poor performing player that costs 8 credits.
It's all up to you. The combination that you want. You win or lose; that mostly depends on luck
For example, my HalaPlay team for KXIP vs MI had 3 all-rounders and not Chris Gayle but on MyTeam11 I had him in my team. Gayle scored 99. I lost on HalaPlay won on MyTeam11.
So while on MyTeam11 Batsmen have an advantage over bowler on HalaPlay your team needs to be balanced.
Always create your team according to the "Pitch Report". After you have read the pitch report you know whether the pitch is good for spinners or seamers. Whether it's a high score pitch or low score.
And if you don't feel like playing fantasy sports/cricket sometimes, it's better if you don't.
If you are having a hard time creating your fantasy team you can head over to Google and search "HalaPlay team prediction". Many blogs share their tips and teams. You can view these teams when you are confused and need some help.
HalaPlay Customer Care:
If you have any questions you can contact HalaPlay through this email: care@halaplay.com
HalaPlay helpline number: they don't have a helpline number.
Final Words:
HalaPlay is one of the most famous and trusted fantasy platforms in India. And like every other fantasy sports platform you will get Rs. 100 cash bonus when you enter a referral code during sign up. You can use this cash bonus to join paid leagues and win cash without depositing anything.
So, if you are running low on cash in Dream11 account, try HalaPlay and use your cash bonus to win more.
And if your friends haven't joined you yet, refer them to HalaPlay and get a referral bonus of Rs. 50 for every friend that registers with your referral code and joins a league.
Your friends will also get a cash bonus of Rs. 50.
Enter this HalaPlay referral code and get extra Rs. 50: uIFcYlPHl