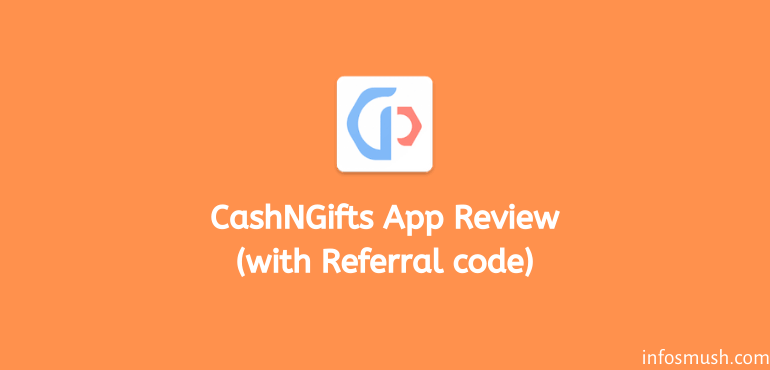 CashNGifts is an app/website where you can earn Points by completing various tasks and activities. The points you earn can be used to recharge, shop online oor you can redeem it for gift cards and cash.
CashNGifts can be accessed from your PC or any Browser or you can download the app for your android device.
Some features of CashNGifts are only available in the App.
CashNGifts even has its own ebook that explains the different ways to make money from CashNGifts. But it's a bit outdated. Don't worry I've gathered all the fresh info in this review for you.
CashNGifts App Referral Code- M6vwDq2B
Enter CashNGifts Referral code- M6vwDq2B to get a bonus of 150 points which is equal to ₹15. When you share your CashNGifts referral code 2020 with your friends you will get ₹13 + 15% of their income forever.
How to Get ₹15 Bonus on CashNGifts:
The registration process is simple and takes less than 1 minute. You can register on the app or CashNGifts.in
1. Download the CashNGifts app from this link or go to CashNGifts.in.
2. Open the app and select the language you prefer.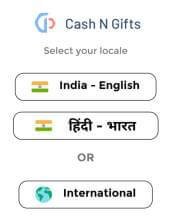 3. Tap Register as shown in the image below.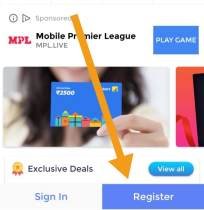 4. Enter your name, email address and tap "Got a Referral Code"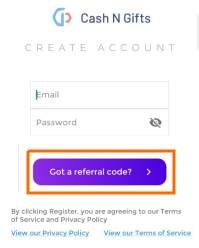 5. Now enter the CashNGifts Referral Code- M6vwDq2B. And tap Create New Account.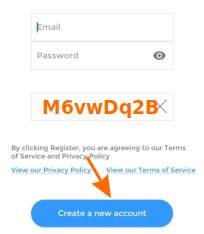 6. Now log in using your email address and password.
7. After logging in, scroll down on the home page and tap Click here to verify.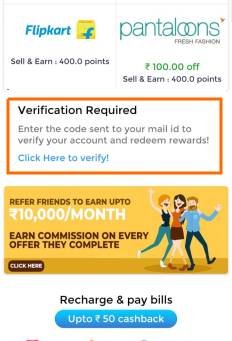 8. Now enter the verification code you received on your email .
9. You will get ₹15(150 points) as soon as you verify your email address.
CashNGifts Refer & Earn:
The CashNGift referral system is a bit complicated. But I've explained it in short:
As you can see in the above screen; If you have 0-49 referrals you will get 60% of the cost of their first redemption and 15% of their earnings by completing offers.
Now for 50th to 199 referrals, you will get 15 points when they join and verify their email and 60 Bonus points when they redeem for the first time.
And so on.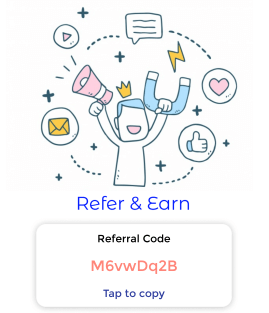 Your friends also get 150 extra points when they sign up with your referral link/referral code.
Enter this CashNGifts referral code to get 150 points: M6vwDq2B
Now that we have created your account let's take a look at the…
Ways to Make Money From CashNGifts:
1. Daily Login:
You will earn 1-6 points for logging in the app and 1-4 points for logging in the website.
So you can earn up to 8 points every day just by logging in..
2. Watch and Earn:
You can earn 0.1 points per video. You can view videos in the app only.
3. Play Games:
You can also earn points for playing games. CashNGifts has 100s of games to choose from. You can play games from categories like arcade, quiz, word, strategy, card and puzzle.
So, why are they paying you for playing games?
Well, because on the game-page they display ads on the right side of the screen. They earn by displaying ads & share the revenue with you.
When you're done playing don't close the window or tab directly. If you do this, you won't get your points. There is a Finish button below the game, always use that button to end the game.
You can play games on the website(PC) as well as the app.
Points are added to your account within 5 minutes.
4. MemeRewardz:
MemeRewardz is a "meme social media" powered by CashNGifts where you can earn CashNGifts points by creating your own memes.
Every week top 25 users (to get the most likes) win points. The user with most likes gets 120 points.
You can also earn points by unlocking various Achievements.
5. Offers: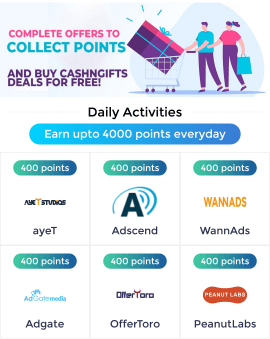 You can earn points by completing offers from over 16 offer walls.
To Earn points by completing offers you generally need to install apps, sign up on websites, watch videos or click on ads, etc.
6. Surveys:
You can earn by completing daily surveys.
7. Lottery:
Every day you can participate in up to 5 CNG lotteries. Each lottery has different Prize and price of the ticket. The more tickets you purchase the higher your chances of winning.
8. Contests:
The contests start at the beginning of the month and end at the end of the month. There are two CashNGifts Monthly Contests:
Highest Monthly Earner:
In this contest, the top three earners win points. The 1st, 2nd and 3rd prizes are 350, 250, and 150 points respectively.
To compete in this contest you must earn points by completing offers.
Highest Referral Contest:
As the title suggests, to compete in the referral contest you need to refer your friends.
The prizes and prize distribution are the same as the highest monthly earner contest.
9. Spin & Earn:
Spin & Earn is only available for the app.
In Spin & Earn you will win activity points/scores. Every day top 40 users with the highest "activity score" are rewarded with points.
You can spin every 10 minutes.
10. Solve and Earn:
In this section, you can earn points by solving mathematical questions. For every right answer, you will earn 0.1 point which is too low to bother yourself.
Solve & Earn is available in the app.
11. Lucky box:
You can get 7-500 points when you open one lucky box. Each box costs 20 points.
Like the Spin/Solve & Earn this too can be accessed through the CashNGifts app.
12. Cash Back: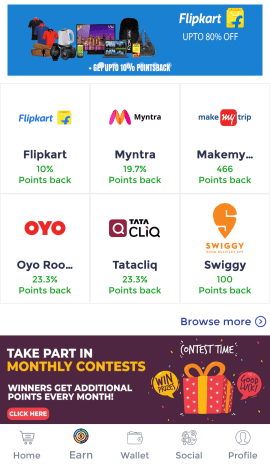 This pretty much works the same as Savemonk. You select the store and follow the instructions to get the specified cash back. The only difference is that you'll earn CNG points instead of cash.
CashNGifts Rewards:
You can redeem your points for PayPal cash, Paytm cash. Amazon gift cards, Flipkart vouchers, mobile recharge, cash (bank transfer), electronics & products and more.
Minimum:
You can withdraw your coins as soon as you have 1,500 points = Rs.150 for Paytm and PayPal cash($2.14).
CashNGifts App Wallet:
CashNgifts app now has a wallet. You can add money to the wallet using debit or credit card.
You can also convert points into the balance of your wallet.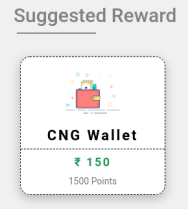 Using CashNgifts wallet you can recharge your mobile, pay bills and also shop online.
Is CashNGifts App Legit?
Yes, it is a legit app. Here's my Paytm cash payment proof: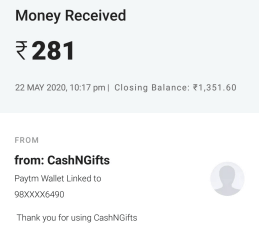 or