BGMI Official News Today- Krafton has officially announced that BGMI is coming back to India. They may be looking to launch the app in the coming weeks. But since the good news was announced that BGMI is coming back the servers were shut down and users were left with this message.
BGMI Play Store Release date:
BGMI has officially returned to Play Store on 22 May 2023. This seems to indicate that we can expect an update within 2 to 3 days.
As there is no specific news on the launching of the new game servers it is not clear when the app will be available on the Google Play Store and Apple app store. But it is expected that the current BGMI app will become redundant and you will have to uninstall the current version and install the latest BGMI game from the Google Play Store.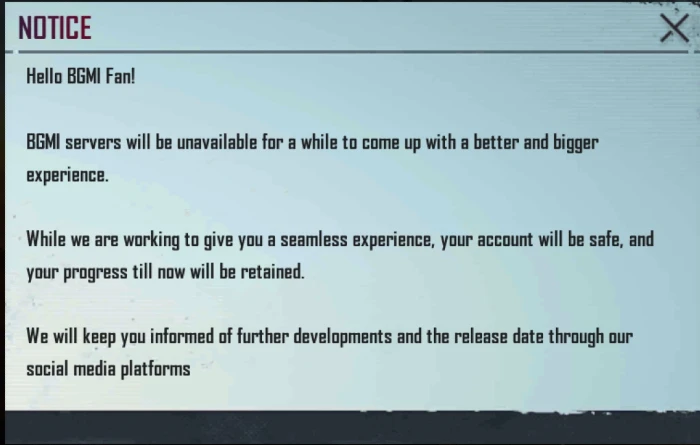 "Hello BGMI Fan!
BGMI servers will be unavailable for a while to come up with a better and bigger experience.
While we are working to give you a seamless experience, your account will be safe, and your progress till now will be retained.
We will keep you informed of further developments and the release date through our social media platforms
With all this, you're all geared up for a power-packed adventure! Remember, play responsibly! Game on! See you in the BATTLEGROUNDS!
Love,"
– KRAFTON
As is mentioned in the Notice in the BGMI app all the news related to BGMI unban and the server will be shared on their social media handles.
BGMI Unban Date and Time(BGMI Kab Unban Hoga)
BGMI Unban Date and Time have not been released by Krafton or any media outlet. So it is not safe to say that the game will not be launching on a specific date.
But one thing is for certain BGMI will be launched in 2023 within a month because they have shut down the servers, and they can't keep it shut for long.
So BGMI will come back in June 2023.
BGMI Server Online Time?
The server of BGMI has been shut down in India for upgrade and modification. Krafton will be making changes to the server and possibly adding new updates to the game before they launch the new BGMI and make the server online again.
Official BGMI Release Dates 2023
| Event | Date |
| --- | --- |
| BGMI Expected Release/Relaunch Date | 20 June 2023 |
| BGMI Server Back Online Time | 19 June 2023 |
| BGMI Unban Date | 19 May 2023 |
| BGMI Play Store Release Date | 22 May 2023 |
| BGMI New Update Date | 19 June 2023 |
How to Download BGMI Latest Version Update
To download the latest version of BGMI you will have to wait for it to be released on the Google Play Store. The expected date for play store release is somewhere in June 2023. So when the update comes you will find the BGMI on the Google Play Store and download it from there.
BGMI Official News From Twitter
It's an emotion! ❤️ pic.twitter.com/XSuT0jPS1u

— BattleGrounds Mobile India (@BattlegroundmIn) May 20, 2023
BGMI Come Back Date
BGMI, developed by Krafton, is a popular battle royale game specifically designed for the Indian market. It serves as a replacement for PUBG Mobile, which was banned in India in September 2020 due to concerns over data privacy and national security. Krafton took measures to address these concerns and worked closely with Indian authorities to relaunch the game as Battlegrounds Mobile India in July 2021.
The relaunch of BGMI came with certain changes and restrictions to comply with Indian regulations. These include data localization, where user data is stored within Indian servers, and various other privacy and security measures. Krafton also introduced a strict age restriction policy to ensure that the game was accessible only to players above the age of 18.
After BGMI's relaunch, it gained significant popularity and was well-received by the Indian gaming community. But later on, it was again banned and removed from the Google Play Store but users could still play the game.
And now BGMI is officially relaunching in India again. For latest news about BGMI bookmark this page.